.
Im Jahre 2012 gab es in New York im Rose Theatre von der Opern-Compagnie  Grattacielo  (unter der langjährigen Leitung der Intendantin Duane D. Printz) eine international besonders beachtete Premiere: La Nave von Italo Montemezzi, den Opernliebhaber wenn überhaupt dann nur als den Komponisten der Dreikönigs-Oper L´amore di tre re kennen, die es relativ reichlich dokumentiert gibt (namentlich mit Virginia Zeani, aber zuletzt abenteuerlich mit Anna Moffo in den letzten Zügen ihrer Karriere). La Nave von 1918 (also dem Jahr des Endes des 1. Weltkriegs) besitzt ein kompliziertes, heute politisch fragwürdiges Libretto des berühmten italienischen Nationaldichters Gabriele D´Annunzio, das nicht nur damit endet, dass die Heldin an den Bug des die Welt/Äthiopien/die Adriatischen Gebiete erobernden Schiffes genagelt wird, sondern das ganz unverstellt den Anspruch des aufkommenden Faschismus verherrlicht – der alte D´Annunzio hatte sich wirklich zu einer Hymne auf die neue Bewegung hinreißen lassen, und Montemezzi folgte ihm darin enthusiastisch, ebenso wie auch Mascagni, Pizetti und viele andere mehr.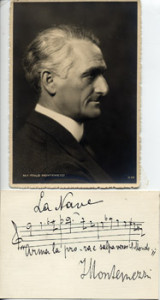 Andererseits ist  La Nave das musikalische Testament Montemezzis, stilistisch aufregend in seiner Vision einer Verblendung von Musik und Text (und was für ein literarisch unglaublicher Text!), von visonärer Kraft der Auflösung der bekannten tonalen Strukturen, von dynamisch-barbarischer Brutalität und feinstem, dicht gesponnenem musikalischem Geflecht.
Der britische Musikwissenschaftler und Autor David Chandler (zudem Professor für Englische Literatur im japanischen Koyoto) hat sich seit langem mit dem Verismo in Italien beschäftigt und gilt als der Fachmann auf diesem Gebiet. Nach seinen Büchern über Catalani stellte er für die New Yorker Aufführung des Teatro Grattacielo einen Band mit Texten zur Oper La Nave zusammen (Essays on the Montemezzi-D´Annunzio Nave), der neben einer eigenen Einschätzung der Oper auch zeitgenössische Berichte/Kritiken aus der Zeit der Premiere 1918 umfasst (Pizetti, Navarra, Barilli, Montemezzi selbst u. a.), und der neben Chandlers eigenem Text auch ein kluges Vorwort von Duane D. Printz enthält, deren unerschütterliche Beharrlichkeit schlussendlich in einer glanzvollen Aufführung in New York mündete (der sogar ein Eissturm nichts anhaben konnte).
Im Folgenden also ein Artikel von David Chandler: La Nave – Italo Montemezzi's Career-Ending Magnum Opus. The compositional career of Italo Montemezzi (1875–1952) presents an intriguing structural problem. The first half, 1896 –1918, represents a broad upward curve of accomplishment and success. Montemezzi entered the Royal Conservatory, Milan, in 1896 (graduating 1900); his first opera, Bianca (1901), won the Bonetti prize awarded by the Conservatory; his second, Giovanni Gallurese (1905), was a major public success, and established Montemezzi on the Italian operatic scene; his third, Héllera (1909), though a clear artistic advance on Giovanni Gallurese, was an unexpected failure; his fourth, L'Amore dei Tre Re (1913), was a huge international triumph, acclaimed by many American critics in particular as the greatest Italian opera since Verdi; his fifth, La Nave (1918), was clearly his most ambitious effort to date, and it received a prestigious premiere at La Scala just as World War I ended. So far so good. But the second half of Montemezzi's career, 1919–52, follows an arc of precipitous decline. In the 1920s Montemezzi considered, and abandoned, various operatic projects, and rather astonishingly produced no new work at all. His next opera after La Nave was the far less ambitious, one-act La Notte di Zoraima (1931); after that there was to be just one more opera, again a one-acter, L'Incantesimo (1943).  By the mid-1920s, Montemezzi was known almost wholly as the composer of L'Amore dei Tre Re. In 1927 the leading American critic, W. J. Henderson, compared him to 'Single Speech Hamilton' (the English politician, William Gerard Hamilton) and called him 'single opera Montemezzi' – a piece of mockery all the more cutting for the huge sense of disappointment which lay behind it.[1] Henderson had welcomed L'Amore dei Tre Re to America in 1914 as one of the great musical events of the age.
What is the explanation for this extraordinary collapse of one of the most promising musical careers of the early twentieth century? A combination of personal and professional factors lies behind it; nevertheless, in my interpretation the most significant is the relative failure of La Nave compared to L'Amore dei Tre Re. Montemezzi could never get over this and it shook his confidence badly. Unlike such contemporary composers as Schoenberg and De Falla, who devoted many years to works they considered their masterpieces and left them unfinished, Montemezzi believed he had composed his masterpiece. The problem was the world had been unconvinced. Over time, his expressed feelings on the matter became increasingly urgent and despairing. On 18 July 1930 he wrote to Mussolini, no less: La Nave … is my major work. / I insist: my major work. I shout it to the rooftops so that I may be heard. / I would really like to be understood before I die! I'm shouting because in the artist's creed, which considers art from the point of view of beauty and beauty alone, I'm sure I deserve that my Nave be looked upon in good faith. / It was composed at a moment when everyone was looking to the other side of the Adriatic [i.e. during World War I, when Italy was hoping to regain former Venetian territories], with eyes full of tears and hope, and a heart swollen with sublime love. It was my greatest dream: to provide Italy with an opera solely and characteristically Italian which had no precedent, such as to be a modest contribution from a faithful and doting artist.[i]
This statement is certainly a little confused, and the confusion is revealing. On one hand Montemezzi stresses the purely aesthetic claims of La Nave; on the other, he does not hesitate to mention its political and nationalistic inspiration. The following year he went even further regarding the latter, recommending La Nave as an appropriate opera to mark 'the tenth anniversary of Fascism [1932]. … Certainly no other opera can be more suitable than La Nave to exalt the power of our race.'[ii] Moreover, Montemezzi's description of 'an opera solely and characteristically Italian' is very odd, even disingenuous, given that the Italian critics in 1918 had unanimously declared the opera to be very, even excessively, Wagnerian: something not looked on very favourably in the aftermath of World War I. These confusions of art and politics, nationalism and international Wagnerianism, effectively wrecked La Nave, and with it Montemezzi's career.
Things could have been very different. After L'Amore dei Tre Re, Montemezzi made a contract with Casa Ricordi, his supremely powerful publisher, to supply two more full-length operas. His correspondence with Ricordi, preserved in the Ricordi archive, shows that his first choice of subject was Edmond Rostand's verse play of 1895, La Princesse lointaine. This was a subject he would keep coming back to for years, and in my judgment it would have suited him perfectly; it was a non-political story of international and romantic interest and had he written such an opera it would probably have followed L'Amore dei Tre Re into the international repertoire. But Tito Ricordi either could not, or would not, obtain the rights to Rostand's play, and Montemezzi had, perforce, to look for another subject. The first thought of Gabriele D'Annunzio's La Nave came to him as he sat in a restaurant in Milan in April 1914, and he reread the play straight away – apparently sending out a waiter to obtain a copy! His earliest account of what happened next, reported to Vincenzo Bucci, emphasizes that he felt overwhelmed by the difficulty of turning such a long, complex, heavily rhetorical play into an opera: The Maestro closed the book, dazzled by the grandiose vision. What a subject for a composer, what a sketch to fill out into a masterpiece![iii] However, the extent of the picture and the large size of the tragedy, which could hardly be reduced to the small proportions of a libretto, left him perplexed. He went home, threw the book on the table, and for some time did not reopen it.[iv]
It would probably have been better for Montemezzi's career if he had not reopened La Nave. But in early 1915, as the question whether Italy should enter World War I on the allied side began to be intensely agitated, he made the fateful decision that D'Annunzio's play was of such powerful contemporary relevance that he should compose the opera. Tito Ricordi agreed, and prepared a shortened version of the play for Montemezzi to set as a Literaturoper.
In La Nave (1908), D'Annunzio had apparently been seeking to create a myth of the foundation of Venice comparable to that of the founding of Rome, in which Romulus kills his brother Remus. In La Nave, Marco Gratico kills his brother, Sergio, at the instigation of Basiliola, representative of the older Faledro dynasty. At the end, he promises to atone for his crime by sailing off in 'the ship' of the title to 'redeem the Adriatic': a project of intense contemporary resonance for Italy in the early 1900s and one that would come to a head with D'Annunzio's own armed takeover of Fiume (now Rijeka in Croatia) in 1919. Summarised this briefly, the story may seem clear enough, but in the episodic progress of the play the motivation of the main characters is remarkably unclear, and this is even more the case in the shortened libretto. The American critic, William L. Hubbard, succinctly captured what will always be a basic problem: '"The Ship" in libretto form is ambiguous and confusing. There are big holes in the drama which may have been well filled for the minds of Mr. Ricordi and Mr. Montemezzi, but which the person unfamiliar with the original drama of D'Annunzio has no way of leveling up.'[v]
The most helpful interpretation of the action I have found is Bucci's, who, having just interviewed Montemezzi on the subject, describes it as 'the battle of the hero against the obscure forces that attempt to thwart the heroic life' – the 'obscure forces' being mainly Basiliola's seductive wiles and the legacy of past violence.[vi] With this assistance, it is possible to make sense of most of what happens in the opera, even with Hubbard's 'big holes'. A positive view of the rather fragmentary structure is supplied by one of Montemezzi's most sympathetic critics, Adriano Lualdi, who suggests that the opera is 'akin to a series of large frescoes': that is to say, a series of interconnected, detailed 'pictures' with the spectator required to make the imaginative leaps between them.[vii]
Montemezzi worked on La Nave during the war years, and it is clear that he was powerfully inspired by his libretto and convinced he was composing an opera of national importance. In L'Amore dei Tre Re he had already gone far towards realizing his ideal of an Italian 'music drama' that would learn from, but not be overwhelmed by, Wagnerian models. This involved a strictly dramatic treatment of melody: melody virtually never takes on an unfettered life of its own, but remains strictly linked to the text and action. He continued this procedure in La Nave, but the different nature of the text, in which there is no romantic love, and rather more speechifying, made for an opera in which there is a lot of dramatic recitative and comparatively little pure lyricism – something the Italian reviewers faulted in 1918. On the other hand, the subject allowed a further development of the rich orchestral and vocal polyphony Montemezzi had created in the earlier opera, and La Nave represents an advance over L'Amore dei Tre Re most of all in the thorough integration of a choral element. It is, at the deeper level, a story of a people; Matteo Incagliati was right to hear it as a 'choral opera' and to evoke the model of Boris Godunov.[viii] In general, critics have agreed on the merits and demerits of the opera, praising Montemezzi's orchestration and use of the chorus and criticizing his choice of libretto and lack of lyricism.
For all this, it is the political message and unsuccessful attempt at catching the movement of history (modern Italy never did, and presumably never will, 'redeem the Adriatic'), and the expense of putting it on, that have doubtless militated most against La Nave being produced. After ten performances at La Scala in 1918 (November 3, 1918, Elena Rakowska, Giulio Cirino, Edoardo Di Giovanne i. e. Edward Johnson/ Tullio Serafin), the opera was given a prestigious international baptism in Chicago (Rosa Raisa, Alessandro Dolci) the following year. But here its stage career stalled; the failure of the original plan to take the Chicago production on to New York was very unfortunate. There was a third production in Verona in 1923, and a fourth in Rome in 1938 (Gina Cigna, Mario Basiola/ Tullio Serafin): and this is the extent of the staged performances to date. It is, moreover, likely that the Verona and Rome productions would not have taken place were it not for Montemezzi's lobbying.
Despite this unpromising stage history, which contrasts so strikingly with the hundreds of productions of L'Amore dei Tre Re, those of us lucky enough to be present when Teatro Grattacielo of New York revived La Nave in concert form in 2012 were granted an astonishing revelation. If Montemezzi's career crashed with this work, at least it crashed in spectacular fashion, and however much one may dream of an alternative history in which he wrote a successful Princesse lointaine and followed it up with further popular operas, La Nave remains a major achievement. A century on, the supposed lack of melody is much less an issue; indeed compared to much twentieth-century art music, one might call the opera positively melodic: 'It is all highly melodic, but declamatory', noted Dan Foley, who found 'impassioned melodic inspiration'.[ix] But it was the sheer grandeur, sophistication and assurance of the music that most impressed; 'the piece is virtually without a dead spot or a carelessly written passage' concluded Peter G. Davis, who found it 'impossible to catalog all the beauties of this absorbing score'.[x]
The Teatro Grattacielo performance made a strong case for La Nave to return to the stage, and it is much to be hoped it will. Even if that doesn't happen, it is an opera which deserves to be recorded, and anyone interested in the opera of the early twentieth century – especially anyone who admires L'Amore dei Tre Re – should make an effort to hear the work Montemezzi considered his masterpiece (recordings of the 2012 performance are in circulation). The music should not die with the politics.
David Chandler
[i] '"Love of Three Kings" Repeated', New York Sun, 1 March 1927, 27./ [i] Fiamma Nicolodi, Musica e Musicisti nel Ventennio Fascista (Fiesole: Discanto, 1984), 416. / [ii] Letter to Mussolini, 11 September 1931. Ibid. 418./ [iii] The literal reference is to the canovaccio, or written sketch on which an actor would freely improvise in a theatrical performance./ [iv] Essays on the Montemezzi-D'Annunzio 'Nave', ed. David Chandler, 2nd. edn. (Norwich: Durrant Publishing, 2014), 35./ [v] Ibid. 184–85./ [vi] Ibid. 35./ [vii] Ibid. 239./ [viii] Ibid. 251./ [ix] Ibid. 282./ [x] Ibid. 277, 276
Zum Inhalt: After the phenomenal success of his opera, L'Amore dei tre Re, composer Italo Montemezzi was impelled to set a subject of even greater scope and power. Turning to Italy's nationalistic poet Gabriele D'Annunzio, the play La Nave (1908) certainly filled the bill, set in a conflicted 6th century Venice. Written in 1918, the opera's début at La Scala occurred just as Italy began to make forays into expanding their territory into Trieste and Fiume on the Adriatic coast, and became a de facto piece of propaganda that served its purpose, then and decades later when Mussolini came to power. Because of its brutal metaphors and blood-soaked narrative, the tragedy of La Nave has been controversial and, despite its shocking story and implicit self-aggrandizement for Italy as a world power, it remains a seldom-heard masterpiece of 20th century opera, and deserves a hearing in the 21st. 
Synopsis:Consisting of a Prologue and Three Episodes, the opera concerns the fate of two families who are vying for control of Venice in the year AD 552. Prologue. The city is still under construction with a Basilica on the left, docks where a large ship is being built in the center, and a mill surrounded by thatched huts on the right surrounding the central public square. As the opera opens, the workmen, guilds, sailors and populace welcome the arrival of two ships—the first carrying Basiliola, the beautiful daughter of the previous tribune, Orso Faledro. He, along with his four sons has been brutally blinded for conspiring with the Greeks. The four brothers have also had their tongues cut out and are thus mute during the opera.  The second ship then arrives carrying Marco Gràtico and his brother, Sergio, a priest. To popular acclaim, Marco is elected the new tribune and commander of the fleet and Sergio is named the new Bishop. Basiliola, although horrified by the appearance of her father and brothers, announces she will dance to the death for the victor over her family. With a torch and sword she dances, but her laugh turns to sobs as the crowd lifts the tribune above their heads to take him before the altar of the Basilica for his consecration.
Episode One. A wooded knoll above the Pit of Thieves surrounded by a large wall like a bulwark, a loggia supporting a thatch-roofed house, and a pavilion made from a lateen sail strung between three columns. A small crowd of archers stand guard over the prisoners in the pit. Basiliola enters and Gauro, one of the prisoners, pleads with her to kill him. She refuses until he admits that it was he who held her brother, Marino, down while his tongue was being cut out whereupon Basiliola grabs a bow and an arrow from an archer and kills first Gauro then all the other prisoners. / Hearing their death-cries, a monk, Traba, enters and curses her saying he will trample upon her neck, which awakens Marco Gràtico who has been asleep in the house. Laughing, Basiliola removes her tunic and belt throwing it to the ground and revealing her breasts. Marco is stunned by her beauty and they begin an impassioned duet. When she asks him for hischlamys to cover herself, he wraps it around her. She asks him whether he would exchange his helmet of dolphin fins for an imperial crown, then when he picks up her belt from the ground she says to him, "you see, it is so short that if you fasten it around your head, you already have your crown".
Episode Two. The square atrium of the Basilica with the central nave and apse visible through the wide, open doors. A large table for the pagan Agapês (followers of a sect devoted to Dionysius and spiritual love) has been set up at the behest of the new Bishop, a pagan himself, who is seated next to Basiliola surrounded by the other guests. A group of dancing girls clothed in white byssus (a gauzy, silk material made from the filaments mollusks produce to attach themselves to surfaces!) tied with gold beneath their breasts perform an erotic dance followed by Basiliola who dances with a sword she brandishes above her head./ Marco Gràtico enters and Basiliola offers him a chalice of wine which he throws on the floor. Sergio then challenges him to a fight in which Marco is cut in the face, then, in spite of Basiliola's attempts to blind him with her chlamys, Marco grabs Sergio and cuts his throat. An alarm is heard announcing the return of Basiliola's older brother, Giovanni, who is bringing 3,000 Epirotes with him to fight the Gràticos. Marco orders Basiliola to be tied to the altar as the populace leave to hold back the advancing army.
Episode Three. The great ship, Totus Mundus, is on its slipway, dark against the dawn sky. All the people are gathered along with Basiliola who is tied to the altar. A matins hymn is heard in the distance, as Marco Gràtico tells the people he will make amends for killing his brother by banishing himself from his country in order to "make of the oceans our seas". He selects several of his men to go with him on the voyage to Egypt from whence they will never return. Basiliola pleads with him to give her a beautiful death and Marco agrees, ordering her to be nailed to the prow of the ship as their figurehead. As the crowd prays to Christ and St. Mark, the ropes are cut and the ship slides down the slipway into the sea and the oars appear from the sides of the ship, as the rising sun turns the entire scene red. (Grattacielo)
Der Artikel von David Chandler wurde von ihm eigens für uns geschrieben; die Inhaltsangabe übernahmen wir von Grattacielound deren website, ebenso einiges Material an Fotos und Film-Stills, mit Dank an Duane D. Printz. Bei Durrant Publishing ist auch der bereits erwähnte Textband erhältlich: David Chandler, Hrsg. Essays on Montemezzi-D´Annunzio Nave, Translations by Monica Cuneo, Forward by Duane D. printz, 267 Seiten, Abbildungen, Durrant Publishing 2012, ISBN 978-1-90446-31-0; ebenfalls gibt es von ihm Americans on Italo Montemezzi(Durrant Publishing, 2014). Foreword by Duane D. Printz. 50 fully annotated reviews and essays by 30 important American critics surveying Montemezzi's critical reception in the United States. xvii + 365 pp.
Eine vollständige Auflistung der bisherigen Beiträge findet sich auf dieser Serie hier.