Im Alter von 92 Jahren starb am 29. April 2015 der maltesische Tenor Paul Asciak in seinem Heimatort La Valetta. 1923 geboren war er einer der wenigen Sänger der Mittelmeer-Insel, die sich international eine Position erkämpft hatten. Das hat sich mit seinem Schüler Joseph Calleja drastisch geändert, der den Namen Maltas in die Welt trägt. Paul Asciak machte seine Karriere namentlich in Italien, auch in Großbritanien und Irland, war Flavio zur Norma der Callas, aber sang, wie im nachstehenden Text seiner offiziellen website nachzulesen ist, auch als Partner vieler berühmter und renommierter anderer Diven und Kollegen. Und er hatte ein breites Repertoire, das ihm von Wagner bis Bellini ein reiches Betätigungsfeld sicherte. Neben der besagten Norma (der Live-Mitschnitt der Callas aus London 1952) kam vor rund 15 Jahren eine CD mit ihm heraus (s. unten). G. H.
Paul Asciak was born in Valletta, Malta on January 28, 1923. His talent showed early enough and he spent years of singing in the famed Schola Cantorum at St James Church, Valletta under the direction of Maestro Carlo Diacono one of Malta's foremost composers. He started taking his first singing lessons with Maltese tenor Nicoló Baldacchino. He made his operatic debut as Turiddu in Mascagni's Cavalleria Rusticana at the Radio City Opera House in Malta in 1946. In January 1950 after being coached by Mro Luigi Cantoni, Paul Asciak took the role of Radames in Verdi's Aida with the visiting Italian Opera Company "Impresa Cantoni" at the Radio City Opera House in Malta. In the same year Asciak was invited to sing with the visiting famous Italian tenor Tito Schipa and with the renowned Italian soprano Maria Caniglia in March and May respectively. He was encouraged to further his studies by the latter and he went to Rome in March 1950. Caniglia's initiative led to Asciak's being entrusted to Mro Alberto Paoletti of Rome's Teatro dell'Opera. In 1951 he won the Concorso per Giovani Cantanti Lirici together with, among others, Franco Corelli and Anita Cerquetti. He was granted a bursary for voice and histrionic training under the guidance of Mro Luigi Ricci and Riccardo Picozzi at the Teatro dell'Opera, Rome. In the same theatre's Spoleto production of Aida in 1951, Anita Cerquetti singing the title role, Asciak sang the part of Radames. During his stay in Italy, Paul Asciak sung various roles in various cities throughout Italy. He would have included La Gioconda and Un Ballo in Maschera in his repertoire were it not for the fact that he had to leave Italy and go to London to join the Royal Opera House Covent Garden Company.
Asciak was a member of the Royal Opera House Covent Garden Company 1952 to 1954, and as guest artist up to 1958. He appeared over fifty times in various roles such as Melot in Tristan und Isolde, the Tenor Singer in Der Rosenkavalier, Flavio in Norma, Pinkerton in Madama Butterfly and Radames in Aida, apart from other operatic roles. He sang with the Welsh National Opera Company from its very early years, the Dublin Grand Opera, Carl Rosa Opera Company, and others up to 1961. He performed several times on BBC sound and vision as well as on ITV (1952-59). Other leading roles in the UK included Martha, Rigoletto, Il Trovatore, Cavalleria Rusticana, Pagliacci, La Fanciulla del West(BBC TV), Carmen, Balfe's Bohemian Girland also the part of Arvino in I Lombardi.Asciak gave numerous concerts and recitals as well as Verdi's Requiem, mainly in Wales. His guest appearances in Malta at the Radio City Opera House, the Orpheum Theatre, and the Argotti Gardens summer productions were eagerly looked forward to and received much critical acclaim. With visiting Italian companies he sung leading roles in Ernani, Carmen, Aida, Pagliacci, Il Trovatore and Verdi's Otello. It is sad to recall that the last of the three performances of Il Trovatore, held on Sunday 25th November 1959, was the last opera performed in the final season at the Radio City Opera House, Hamrun. Throughout his operatic career other than the above, Asciak performed in the company of renowned singers like Maria Callas, Dame Joan Sutherland, Anita Cerquetti, Dame Joan Hammond, Amy Shuard, Ebe Stignani, Giulietta Simionato, Margreta Elkins, Anselmo Colzani, Carlo Tagliabue, Benvenuto Franci, Piero Cappuccilli, Peter Glossop, Sir Geraint Evans, Giulio Neri, Giacomo Vaghi, Ludwig Suthaus, Hans Braun and conductors like Anton Guadagno, Ottavio Ziino, Vittorio Gui, Peter Gellhorn, John Pritchard, Eric Kleiber, Sir John Barbirolli, Sir Charles Groves and others.
Asciak retired from the stage in May 1961 and dedicated his time to his family and teaching. He joined the Education Department in 1961 and retired as Head of Department of Music in 1984. In the meantime he was also Director of Music at St Edward's College between 1967 and 1973. Between 1965 and 1988, he was also Honorary Representative of Trinity College of Music, London, for Malta and Gozo. He managed to conserve his voice up to an advanced age. During his term as General Manager at the Manoel Theatre, Malta's National Theatre, he went to Poland in 1989 to engage an opera company for an open air season in Malta. He was asked to replace the tenor in the title role of Verdi's Otello during the dress rehearsal for the first night which was scheduled for the following day. This was the only solution to avoid cancelling the performance.
Asciak lent his vast experience to a number of young Maltese singers by teaching them vocal technique and interpretation. In view of the setbacks caused by the second world war, it is surely through his pioneering spirit and that of other singers of the time that so many of today's singers found the courage to pursue their studies abroad. It is undoubtedly with young tenor Joseph Calleja that his name will remain indelibly linked. Asciak has been Calleja's sole tutor, and he still closely follows the increasingly renowned young opera star who is turning out to be one of the most successful Maltese opera singers of all times. (Paul-Asciak-website)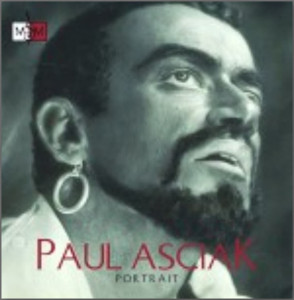 Dokumente: A Portrait Paul Asciak (Orchestra and piano accompaniment; Songs and Arias by Russo-Nutile, De Curtis, Fusco-Falvo, Buzzi-Peccia, Bingham-Capel, Puccini, Giordano, Verdi, Cilea and Leoncavallo) Live recordings 1950s, first time release on CD Michael Storrs Music; (und als Flavio in der Live-Norma 1952 mit der Callas aus London 1951/EMI). Auf oben angegebener Website finden sich auch Filmclips mit dem Tenor in verschiedenen Rollen sowie weitere Details zu seinem Leben und seiner Karriere. Bei google findet man viele Hinweise auf den maltesischen Tenor und weitere Fotos (www.paulasciak.com; oben als Radamès). Zudem gibt es bei youtube einiges, so ein Interview mit dem Tenor.