.
Eingefleischten Fans von Helen Traubel und auch solchen des Musicals brauche ich nicht mit dem obigen Begriff "hootsie-tootsie" (wie immer man das schreibt) zu kommen – die wissen, dass es aus dem wunderbaren Hollywood-Film Deep in my heart entnommen ist: eine sehr freie filmische Biographie des Komponisten mit einer absolut Star-studded-Besetzung von Merle Oberon bis zu José Ferrer (ehemals als VHS und nun als US-Import bei Amazon & Co.), La Traubel in einer ihrer besten und komischsten Rollen nicht ausgenommen. Sie betritt den Raum und hört Ferrer/Romberg am Klavier klimpern: "I like it Sigmund!, Can you play it? Is it hootsie-tootsie? Can we dance it?" Und das tun die beiden auch mit Verve, die stämmige Traubel und der agile Ferrer Und der steppt auch noch. Was für eine Szene! Ein "Leg of mutton rag" eben.
Und was für Musik! In die Beine und Ohren gehend, schmissig, einfach toll. Das beste aus Europa und Amerika vereinend, noch nicht Musical, aber nicht mehr Operette, eine Brücke zwischen beiden. Das gilt auch für die in den USA erschienene DVD des Desert Song von 1943, die im nachstehenden Artikel von Kevin Clarke vom Operetta Research Center Amsterdam (ORCA) vorgestellt wird. Heißer Sand, Sonne über der Wüste, laue Nacht, Mondschein, eine kitschige Liebesgeschichte à la Marocco/Sternheim und atemberaubende Farben von Technicolor, dazu einen gutgegelten Herzensbrecher vom Dienst und eine sexy Blondine (nicht zu vergessen der hinreißende Curt Bois). Man klebt förmlich am TV-Screen. Das Ganze ist in die Zeit von 1943 gehoben: Die gemeinen Pläne Nazi-Deutschlands werden von freiheitsliebenden Touregs unter Anführung eines entschlossenen Amerikaners und dem (zwar korrupten, aber sich auf seine demokratische Basis besinnenden) Franzosen durchkreuzt. Und bei der kleinsten Gelegenheit gibts Solos, Duette und aufrüttelnde Chöre. Das ist Hollywood und das ist Musik, die in Erinnerung bleibt – Romberg eben.
.
Sigmund Romberg (29. Juli 1887 Nagykanizsa – 10. November 1957 New York) wurde in Ungarn geboren, in Wien ausgebildet, wo er am Theater an der Wien arbeitete. Bei Richard Heuberger lernte er die österreichische Operette. 1909 besuchte er die USA und bewarb sich um die Staatsbürgerschaft. Er tingelte herum, gründete sein eigenes Orchester und arbeitete 1914 im Theater der Shubert Brothers in New York als deren Hauskomponist und Arrangeur. 1915 schrieb er zur Verlängerung einer Eysler-Operette seinen ersten Hit ("Auf Wiedersehn`n"). 1917 hatte er sich vorübergehend selbstständig gemacht und kam mit seiner Operette Maytime heraus (daraus erinnert man "Will you remember me?"). Romberg lehnte sich gegen den Zwangsvertrag bei Shuberts auf, musste aber klein beigeben. Er instrumentierte und adaptierte Das Dreimäderlhaus auf Schuberts Leben (als Blossom Time"(der bekannte "Song of Love" ist auf Themen aus Schuberts Unvollendeter geschrieben). Die nächsten Jahre brachten einen Romberg-Hit nach dem anderen: 1924 The Student Prince (daraus "Deep in my heart", "Drinking Song", "Golden days" und "Serenade" – die kein amerikanischer Tenor ausgelassen hat). 1926 folgte The Desert Song (daraus berühmt "One alone", "Riff song" und "Romance", echte Tränentreiber). 1927 Maryland ("Mother", "Silver moon"), 1928 Rosalie für Florence Ziegfeld und Glamour-Star Marilyn Miller. 1928 The New Moon ("Lover come back to me", "Softly as in the morning sunrise" und "Stouthearted men").
Die Zeiten und der Geschmack änderten sich, Romberg konnte sein Erfolgsrezept der großen, streicherunterlegten Songszenen nicht anpassen, sein Erfolg begann zu schwinden. Er schrieb nun Musik oder Musikarrangements für Filme wie The night is still young ("When I grow too old to dream"). 1940 machte er mit einem eigenen Orchester eine große USA-Tournee. Sein letzter Hit am Broadway war Up in Central Park 1945, aber auch das war kein wirklicher Erfolg mehr. Alles in allem schrieb Romberg Musik für rund 60 Shows, absolut unerreicht bis dahin und seitdem. Manche warfen ihm vor, sich an den Stücken anderer Kollegen zu bedienen (so Vincent Youman, der einen Prozess gegen ihn anstrengen wollte). Gelegentlich scheint seine Musik routiniert, weniger originär im Vergleich zu Rudolf Friml zum Beispiel. Aber er schuf vor allem langlebige, eingängige Melodien, die sich bis heute gehalten haben und die ins das kollektive Bewusstsein eingegangen und von nahezu allen Pop-Sängern vorgetragen worden sind. Er war der Katalysator zwischen der europäischen und der amerikanischen Operette auf ihrem Weg zum Musical. G. H.
.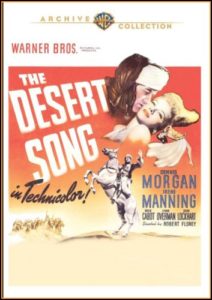 PS.: Leider gibt´s diese DVD neu aus Rechtsgründen nur in den USA, aber findigen Fans wird das schon gelingen, und zumindest auf Amazon gibt´s den gewohnten Marktplatz … . Und es gibt auf jpc, Amazon & co. den "anderen" DVD-Umschnitt mit Nelson Eddy, Gale Sherwood, sogar Salvatore Baccalonii unter Charles Sanford von 1955. Oder den mit der sehr bürgerlichen June Bronhill – Wüste in den englischen Downs. Nicht so toll wie hier links nebenan allerdings … G. H.
.
Und nun Hootsie-tootsiges von Kevin Clarke: Sigmund Romberg's North Africa spectacle The Desert Song "is arguably the best of the group of romantic operettas that found such great success on Broadway" in the 1920s, writes Kurt Gänzl in Musical Theatre on Record. It has been recorded many times over, because every self-respecting leading man in musical comedy wanted to sing the songs of The Red Shadow, and many a lusty soprano wanted to chirp out the tunes written for Margot. With a show so popular, it is not surprising that many film version were made too, the first in 1929 in the early years of sound film. Then, two further cinema versions followed, in 1943 Dennis Morgan and Irene Manning starred as the romantic leading team, then, in 1953, the Technicolor extragvaganza starring Gordon MacRae and Kathryn Grayson followed. (This is not counting TV versions, which also exist.)
"Due to legal issues with the screenplay and music rights, the 1943 version, along with the 1929 two-strip Technicolor version, cannot be shown on television or released to video," wrote someone on the International Movie Data Base. "It is, however, safely stored in the Turner vaults and hopefully TCM will be able to show it in the future." Well, that future day has finally arrived, and The Warner Archive Collection has finally released the Morgan/Manning DVD directed by Robert Florey, as well as the restored version of the MacRae/Grayson version which is probably the most familiar because it had been in circulation as a VHS for years.
Another commentator on IMDB writes: "The original stage operetta ofThe Desert Song had a strong score and an intriguing premise with only a very shallow plot, and was filmed faithfully in 1929, and in 1953, the version widely shown on television today. The 1929 version had been hampered by early sound technology and was shot entirely in the studio in black and white, and during the next decade Warners had tried unsuccessfully to come up with a way to remake it while eliminating the creaky, cliché-ridden plot elements. Script after script was rejected until early in 1942, when director Robert Florey and producer Robert Buckner proposed a serious and realistic treatment centering around current events in Morocco.
The Vichy regime was overseeing construction of a trans-Saharan railway, built with forced Arab labor and financed by the Third Reich. Transferring Nazi manipulation of French colonial rule to the years just prior to World War II effectively modernized the operetta's setting, and gave political significance to its depiction of a native revolt."
IMDB continues, "In emphasizing the adventurous aspects of the plot, rather than leaving it as a backdrop, important changes were made to the score, with Buckner and Florey eliminating those aspects that did not assist plot development. Music highlights the action, for instance as a lone rider summons the rebel forces for the initial attack on the French railroad to free the Riff prisoners. Events progress during the musical numbers: desert shots depict the heroine's subjective imagination, while one of the French official's moral instincts surface during a patriotic dance. Buckner and Florey converted the female lead into a professional singer instead of the love-struck girl of the operetta. The humor was overhauled by adding an American reporter whose 'scoops' are constantly censored by an effeminate French government official–a sly dig at the Hays office but also an unintentional foreshadowing of the film's fate at the hands of censors. Despite the collaboration on the new screenplay, the final release credits made no mention at all of the scriptwriters. The star of the new version of The Desert Song had actually been selected several years earlier, after two screen tests in early 1939. The first had been under his real name, Stanley Morner, and the second under his new screen name, Dennis Morgan. No other actors were tested for the lead, and Dennis Morgan would become Warner's leading star of the 1940s."
To add to the authenticity of the topical story, the North African desert locale was reproduced with the utmost possible realism; director Florey was familiar with the region from a 1923 trip. After surveying Palm Springs, Lone Pine, Death Valley, Victorville, Las Vegas, Utah, and Arizona, a location near Gallup, New Mexico was selected. Increasing wartime constraints convinced Warners to begin photography as soon as possible in 1942, even though this meant filming in the sweltering heat of the desert in June and July.
The location shooting alone cost $107,000, nearly twice the amount budgeted, and was the last elaborate location jaunt before wartime restrictions went into effect. The stunning New Mexico scenes, photographed in bright, vivid Technicolor hues, were complemented back in the studio with sets and photography using such visual motifs as narrow city streets, framing shots through Moorish gates and windows, and composition in depth. Florey decorated the sets with many items from his own collection, such as his Toulouse-Lautrec posters on the café walls. French refugees from fascism were prominently employed on the film, including Victor Francen, who plays the Arab collaborating with the Nazis, and technical director Eugene Lourie, who had just arrived in the United States from France via Casablanca.
Production lasted a total of 72 days (eight over schedule), from June to September 1942. Warner Bros. planned to have The Desert Song in release by the beginning of 1943, but by then it had become enmeshed in wartime censorship. The script had been written and production was underway before all the various wartime guidelines had been fully codified.
In December 1942, an analysis by the Office of War Information's Bureau of Motion Pictures condemned The Desert Song for an unsympathetic depiction of the French, recommending either a complete revision or shelving for the duration of the war. Real events came to resemble the movie: November 1942 saw the Allied invasion of North Africa, and idealists were outraged by the Roosevelt administration's pragmatic decision to accept surrender from a Vichy leader. A film which so forcefully denounced the Vichy French could only fuel the controversy.
Warner Bros. decided to wait more than a year, until December 1943, before premiering The Desert Song. Even then the movie ran into political trouble as the Free French pressed Warners to eliminate certain scenes Florey had inserted that related to colonialism, such as the line "why doesn't France export some of its love of freedom."
Not until August 1944 was The Desert Song granted a general export license, and only with a provision precluding sale to countries with substantial Moslem or Arab populations, presumably because of the glorification of a native revolt.
The commentator on IMDB sums it all up by saying, "After all the difficulties, the effort put into The Desert Song proved worthwhile. Going into general domestic release early in 1944, fifteen months after its completion, it was a box-office champion, and critical reaction was generally favorable as well. Nonetheless, general audiences have not seen it in over fifty years. A rights problem in one added song has precluded television or video release of this version of The Desert Song."
Here, for the first time on DVD, thus, is this war-time effort, and it truly is an interesting alternative to the first version which is much closer to the Broadway stage (and touring) production that most Romberg fans of the late 1940s could still remember.
The Fifties remake has found little applause from Broadway operetta fans in recent years, mostly because they consider Kathryn Grayson miscast. Which is something worth debating, because in the same year she starred in the famous Kiss Me Kate film and scored a great success, and I, personally, find her a great match for Mr. MacRae.
To quote a commentator of IMDB: "Gordon MacRae is in splendidly robust baritone voice as the mild-mannered anthropologist who is asked to tutor the General's daughter (Grayson), all the while being the leader of the Riffs being sought by her French legionnaire boyfriend (Steve Cochran). The well-worn plot rambles on interspersed with some action scenes, silly comedy and exotic dances – all in keeping with the spirit of the desert adventure. The two leads are charming in their roles and Raymond Massey is on hand as an evil sheik. Good color photography and location filming make it a pleasant film to watch – but it's the music by Sigmund Romberg that makes it all worthwhile. Grayson is especially good when she renders 'Gay Parisienne' before an army of soldier admirers and gives her most flirtatious and colorful performance since Kiss Me Kate. Gordon MacRae firmly established himself as singer and actor, revealing a sense of humor along with his splendid singing voice. Well worth seeing for fans of musical comedy."
What is particularly interesting about this last movie version is that the character of Paul Bonnard/ El Khobar is portrayed as a Clark Kent type who morphs into an Arabic version of Superman at times, to help the oppressed and needy.
Considering how popular superheroes are right now, with X-Men and Avengers and Captain Americas flying across screens around the world, it might be interesting to re-interpret The Desert Song for modern audiences, live on stage, with such an interpretatory perspective. Obviously, the Arab setting and culture-clash story Romberg and his book author Oscar Hammerstein tell in The Desert Song could not be more up-to-date either, from a 2014 point of view. If you do not know the operetta yet, these two film version are a good way of acquainting yourself with it, and its glories. MacRae singing "Blue Heaven" remains a knock-out. And that Riff Song is as rousing as ever, no matter which version you chose. Kevin Clarke/Operetta Research Center/ 24 August, 2014