Auf den Spuren von Victor Herberts "irischer" Oper/Operette Eileen (dazu den Artikel zum Werk ebenhier in operalounge.de) kommt von New World Records ein Jahr später Rodgers & Harts "American Musical Comedy" Dearest Enemy von 1925 in der Serie "The Foundation of the American Musical Theater". Wie bereits in Eileen steht der irische Dirigent David Brophy am Pult des Orchestra of Ireland, und unter den Sängern finden sich bekannte aus der vorherigen Aufnahme, dazu einige vielversprechende neue. Mit Dank übernehmen wir vom ORCA (Operetta Research Center Amsterdam) dessen Artikel zu dieser bemerkenswerten Operette des Erfolgsteams Rodgers & Hart, das mit seinen Broadway-Melodien und "Erfindungen" die Erbfolge der Vorgängergeneration der amerikanischen Operettenkomponisten angetreten hatte: Friml, Herbert, Romberg und andere mehr. Dem Sujet angemessen gibt´s den Artikel von Kevin Clarke im originalen Englisch, viel Spaß. G. H.
.
.
Aye, you might very well ask: why is a recording of Rodgers & Hart's "American Musical Comedy" Dearest Enemycoming straight from the Emerald Isle, with the Orchestra of Ireland playing under conductor David Brophy, and with a cast mostly composed of promising Irish talent? Surely, it's not because Mrs. Murray's husband, in this tale of the American Revolution set in Manhattan 1776, is originally from County Armagh; or because Mrs. Murray's niece Betsy, the youthful heroine of this patriotic romp, is Irish. Or is it?
Whatever the reasons – cheaper talent, cheaper recording facilities etc. – it's a relief to hear a 'classic' Broadway show from 1925 performed not by the usual suspects of such revival enterprises, but with a fresh group of mostly unknown artists. So, instead of the eternal Rebecca Luker, for example, here there's the dashing young Annalene Beechey as Betsy Burke, sounding gorgeous and winning in each and every song she is given. And here, too, is the equally dashing James Cleverton as her love interest, Captain John Copeland.
For those who don't know Dearest Enemy: it's "a native operetta that went so far as to suggest that proper colonial women were interested in sex", as Gary Marmorstein writes in his brand new biography of Lorenz Hart. It's also the first hit show written by the new team of Rodgers & Hart. In a theatre climate dominated by old world type operettas, such as Romberg's The Student Prince and imports from Europe (Emmerich Kalman et al), Rodgers & Hart wanted to offer something decidedly "American". And what could have been more American that the story of the famed Mrs. Murray, holding up British soldiers with a tea party given at her house in Manhattan, just long enough so that General Putnam's soldiers down at the Battery had time to march up north to unite with General George Washington's forces, without being attacked by the bad British? Using some of the standard musical formats of operetta – dashing soldiers singing marching songs, maiden's choruses à la The Pirates of Penzance, grotesque war heroes that could also have come straight out of a Gilbert & Sullivan operetta, sentimental love duets sung in the moonlight – the new team tried to come up with something novel; a definite emphasis on "sex" (see above) being one of the novelties in this revisited "operetta land". The mix of elements is fascinating, marking the important transition of American Operetta to modern musical comedy, a transition that was simultaneously and successfully also tried by the likes of Jerome Kern and others. It's not that Dearest Enemy hadn't been put on record before (it has!). But this version tries to reconstruct the original version, as far as that's possible, given that much of the original orchestral material has been lost and needed to be reconstructed.
If the following criticism sounds harsh, it doesn't want to devalue the recording as such, but point towards the frustrating bits that keep it from being an all-time great recording – which it should be, could be, and which Dearest Enemy absolutely deserves to get! The main problem, in my opinion, is the producer of the recording, who obviously has no idea what a "native operetta about Colonial women interested in sex" might sound like. Certainly not like a Lieder recital of Schubert. Instead, a show such as Dearest Enemy needs contrast, slapstick, character. And: fun, fun, fun.
As lovely as Annalene Beechey sounds with her light soprano voice, and as catchy as many of the tunes in the score are – conductor David Brophy has a hard time getting the vaudevillian style even remotely right. All numbers sound more or less the same under his baton. Also, his chorus of ladies sounds surprisingly uninvolved in the opening number, when they are threatened to be "compromised" by the invading British ("Hooray, hooray, we're going to be compromised! A soldier can't be satisfied, he always looks for more! A modest maid can make the mildest young mister simply wild! Wild! Wild!"). And they are far too unfunny when they show up in front of the British all made "ugly" so that the soldiers won't find them desirable ("Your beauty is your surety, Security for purity"). It's a romp, for goodness sake, you should perform it as such.
The same is true for the comic duo Harry/Jane. When they sing the obvious comedy duet "Sweet Peter" – about Peter Stuyvesant – and his wooden leg ("Naughty Peter, he would greet her [i.e. his wife] with his Boom! Boom! Boom!") that shouldn't be performed in the same romantic fashion as the Betsy/John numbers, right?
Well, sadly that's exactly what Rachel Kelly and Hal Cazalet do. They have great voices, but they're totally unsuited for this material. The one star performer on this new recording is Kim Criswell as the famed Mrs. Murray. Criswell is a superb artist with an equally superb voice, heard on my classic musical theater recordings. But, her voice sounds far too youthful and fresh to pass – on disc – as the maternal Mrs. Murray. You can hardly tell her apart from the other girls, and that makes the story … well, not work. As delightful as Criswell often is with the lyrics, especially with the song "The Hermits", she's not the stand-out performance needed here.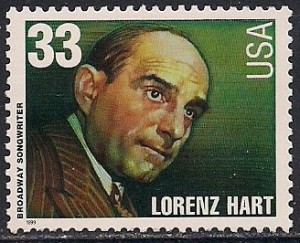 With all of this said: this new version is in no way (!) inferior to the various reconstructions of 1920s shows available on CD elsewhere. But that's no reason to not expect a little bit more. Certainly, when you consider the Irish and their renowned sense of humor. I'm sure they have it in them to come up with a rousing Rodgers & Hart performance, also on disc.
Aye, I certainly hope to hear more of Annalene Beechey. She's a dreamy operetta heroine, that should grace more operetta recordings in the future. And, aye, get a new conductor and producer, and start over again with more shows like this. Kevin Clarke/ Operetta Research Center Amsterdam (27 October, 20013)
.
Richard Rogers/Lorenz Hart: Dearest Enemy, "An American Musical Comedy" mit Annalene Beechey, Kim Criswell, James Cleverton, Philip O´Reilley, Hal Calzalet, Joe Corbett, Rachel Kelly, John Mollow, Stephen Ria; 2 CD New World Records 80749-2
.
Inhalt: Dearest Enemy – An American musical comedy in 3 acts. Book by Herbert Fields: Music by Richard Rodgers: Lyrics by Lorenz Hart. Knickerbocker Theatre, New York – 18 September, 1925 (286 perfs): September, 1776: New York/ Mrs Murray (of the Murray Hill Murrays) and her young ladies are sewing uniforms for General Washington and his officers, while lamenting the absence of their gallants. Mrs Murray warns her charges to beware the British soldier but the girls are not too terribly terrified. Jane Murray is the first to encounter one of the British, Capt. Harry Tryon, who is seeking lodgings for General Sir William Howe and his staff. The British officers arrive; homesick but cheered by the thought of some female companionship. Mrs Murray seeks to discourage them by instructing the girls to dress frumpily.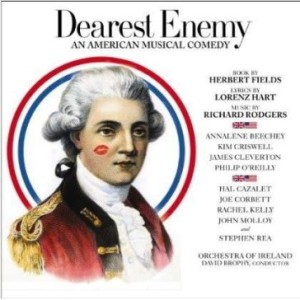 General Washington sends word to Mrs Murray that she must try to detain Howe and his officers overnight so that General Putnam can lead the American troops bottled up on the southern tip of Manhattan to join him on the heights of Harlem. Mrs Murray hastily instructs the girls to change their tactics; all are happy to do so except her niece, Betsy, who has no time for the British and even less for Sir John Copeland, who's responsible for providing her with the barrel in which she comes home after a dog steals her clothes while she's swimming. Mrs Murray tells the British generals about the strange men who live in the far-off Bronx while Betsy, let in on the secret by Mrs Murray, tries to be nice to Sir John. She soon discovers she is falling in love with him. Charmed, the British officers decide to remain at 'The Grange' overnight. That night, Mrs Murray gives a Ball for the British officers and Betsy confides to Jane her love for Sir John. Mrs Murray promises to show the Generals some of the beauties of the local countryside. Betsy and Sir John dream of being together when the war is over. General Tryon tells the girls that youth isn't everything.
When Mrs Murray's messenger is captured, Betsy volunteers to go to General Washington in his place. She leaves the party while the girls and officers relate the sad tale of Peter Stuyvesant. She is told to return to 'The Grange' and when the coast is clear for Putnam to move, to light a lantern for the count of ten, then put it out. Sir John is waiting for her; they confess their love for each other. As soon as Sir John is asleep, Betsy lights the signal. Putnam's men march to safety. Sir John is taken prisoner and it seems Betsy will never see him again. All ends happily in the post-war epilogue in which General Washington reunites the lovers. New World Records