Jedem Belcanto-Liebhaber ist der Name Nelly Miricioiu ein Begriff! Ihre unendlich vielen Live-Aufnahmen von Rossini, Bellini, Donizetti sind in so gut wie jedem Regal von Sammlern zu finden, die sich für diese Spielart der Oper interessieren. Ihre Einspielungen seltener Donizetti-Opern bei Opera Rara vor allem haben ihren Ruhm verewigt, zu dem auch der jüngst verstorbene Walter Knoeff mit seinen Dokumenten auf Gala oder opera-club.net beigetragen hat. Die eigenwillige, höchst individuelle Sopranstimme der Miricioiu war in der Lage, sich problemlos für die Norma ebenso wie für die Anna Bolena oder Semiramide zu eignen. Aber – und das macht ihre große Bandbreite aus – auch das veristische Repertoire von La Fiamma bis zur Francesca da Rimini, von Cilea bis Puccini und Alfano war ihre Domäne. Ich selber habe sie an vielen, vielen Abenden in Italien, London (wo sie wohnt) oder anderswo gehört und bewundert. Ihre Tosca neben Robert Hale und Neil Shicoff gehört zu den spannendsten Verkörperungen meiner Opernerfahrung. Was für eine furchtlose, engagierte und sich in ihre Partien bis zur Selbstaufgabe stürzende Sängerin! Eine wirklich Künstlerin, nicht nur eine Besitzerin einer hochindividuellen Stimme, die man nicht vergisst. Namentlich in London und vor allem in Amsterdam war sie eine Göttin, eine wahre Kaiserin der Samstags-Matineen, jener unglaublichen und schon legendären Opernkonzerte im Amsterdamer Concertgebouw vor einer ebenso treuen wie jubelnden Fangemeinde. Unsere Kollegin Basia Jaworski traf La Miricioiu kürzlich auf einen Schwatz. G. H.
Nun also Basia Jaworski: Ich kann mir das Opernleben ohne Nelly Miricioiu nicht vorstellen. Mit ihrem markanten Sopran, ihrem sehr charakteristischen Timbre und ihrem bis zur Perfektion beherrschten Vibrato, gehört sie seit Beginn der 80er Jahre zu der aussterbenden Rasse der wirklichen Diven vom Typ einer Callas, Scotto oder Olivero. Meine frühesten Opernerinnerungen führen mich zurück zu Thaïs mit Nelly Miricioiu. Danach konnte ich sie 25 Jahre lang im Grote Zaal des Concertgebouws bewundern, während der unvergesslichen Samstagsmatinéen,
bei denen sie im Ganzen 17 verschiedene Rollen gesungen hat – Ihre Palette hier reichte von Rossini, Bellini, Donizetti und Verdi bis hin zu Puccini, Zandonai und Mascagni. Ich bewunderte sie auf der Bühne in Brüssel als Anna Bolena und in Antwerpen als Magda (La Rondine) und Anna (Le Villi). Zwischen ihr und der Amsterdamer Oper wollte es jedoch nicht klappen. Luisa Miller scheiterte an einer idiotischen Regie, und bei Norma wurde sie krank und bekam Stimmprobleme. Was für ein Verlust, denn die Miricioiu ist nicht nur eine wunderbare Sängerin, sondern auch eine phänomenale Schauspielerin.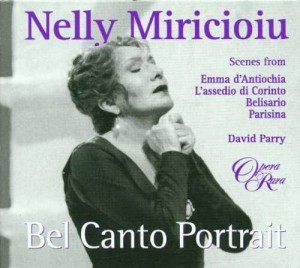 Im März war Nelly Miricioiu ein paar Tage in Amsterdam für eine Meisterklasse von jungen, vielversprechenden Sängern. Ich durfte einer "Lehrstunde" beiwohnen und schaute gebannt zu, wie sie versuchte, der jungen Südkoreanerin Jihae Shin die Grundlagen der Belcantogesangstechnik nahezubringen. Miricioiu ist eine sehr physisch präsente Lehrerin. Sie singt das eine oder andere vor und lässt ihre Schüler fühlen, wie die Muskeln auf bestimmte Klänge reagieren. Wie man diese besser, eindrucksvoller oder einfach präziser erzielen kann. Sie legt ihre Hand auf Shins Bauch und schüttelt mit ihrem Kopf: Nein, so geht das nicht. "Fühle mal", sagt sie und legt Shins Hand auf ihren eigenen Bauch. Das ganze Gesicht wird bei der Unterrichtsstunde einbezogen: von den Schläfen, Augen, Wangenknochen bis zum Kinn. Die Lippen müssen weiter auseinander gezogen werden, der Mund muss breiter, viel breiter sein! Hört sie nun, was für einen Unterschied dies macht? Jihae Shin ist eine aufmerksame Studentin, sie behält alles gut und macht alles brav nach, was ihr aufgetragen wurde. "Brava", ruft die Lehrerin, aber die Koloratur (es wird "Caro nome" aus Rigoletto einstudiert), die muss doch wirklich anders werden! "Das "Haha haha haha" musst Du nicht akzentuieren, das macht Reinild (die Pianistin Reinild Mees, die nicht nur alle Unterrichtsstunden begleitet, sondern auch physisch mitmacht, BJ) schon am Klavier. Du musst flüssig darüber weggleiten, Du darfst Deine Technik nicht hören lassen. Und vergiss das Lächeln nicht, Deine Lippen, Deine Lippen …" Miricioiu macht es kurz vor und alles passt wieder. Genau wie etwas später bei "Ah! Non credea mirarti" aus La Sonnambula. Die Studentin macht es fantastisch, und den Beiden ist die Rührung anzusehen.
Nun also ein paar Fragen: Was lieben Sie am Unterrichten? Und: Ist es nicht schrecklich ermüdend? Ach ich liebe das sehr. Nicht jeder gute Sänger ist ja auch ein guter Lehrer, aber ich denke, dass ich das nicht schlecht mache mache. Es ist eine Tatsache, dass viele von meinen Lehrlingen es wirklich weit bringen und darauf bin ich stolz. Eine Meisterklasse kann man natürlich nicht mit dem wirklichen Unterricht vergleichen, aber selbst dann hoffe ich, dass ich etwas Wesentliches rüberbringen kann. Etwas das bleibt und vor allem weiter hilft. Ich schaue auch oft bei den Meisterklassen vorbei, die meine Kollegen geben, so lerne ich selbst auch noch etwas. Ich bin noch immer sehr lernbegierig.
Sehen Sie: Es geht nicht allein um die Stimme oder das Talent, harte Arbeit und/oder Ausstrahlung. Es geht um das komplette Bild. Wenn man gut aussiehst, ist das natürlich von Vorteil, aber für mich gilt, dass man mit seiner Stimme überzeugen muss und nicht mit seinem Aussehen. Auf der anderen Seite … Gestern habe ich Il Matrimonio Segreto von Cimarosa hier in Amsterdam gesehen, mit wirklich fantastischen jungen Sängern, die auch noch optisch zu ihren Partien passten. Das war einfach ideal.
Es gibt wenig wirklich gute Lehrer! Und Sänger, vor allem junge Sänger, sind Wegwerfartikel geworden. Das Einzige, was zählt, ist der Wettbewerb, und da herrscht auch viel Angst. Denn wenn man sich nicht bedingungslos den Ansprüchen fügt, dann sind da Dutzende, wenn nicht Hunderte andere, die schon in der Reihe stehen, um es von dir zu übernehmen. Ich habe Vorsingen mitgemacht, wo den Sängern gesagt wurde: Du bist wirklich großartig, aber es sind noch viel mehr, die genauso großartig sind wie Du. Also der Nächste!"
Was denken Sie über die vielen Gesangs-Wettbewerbe, die es gibt? Ich finde sie sehr wichtig. Ohne weiteres. Man kann wirklich nicht ohne sie. Wenn man sich als junger Sänger profilieren will, wenn man sich sehen lassen will, dann muss man da mitmachen. Mitunter "springt man" von einem zum anderen Wettbewerb, in der Hoffnung zu gewinnen und entdeckt zu werden. Was nicht hilft: Viele dieser Wettbewerbe können sich nicht entscheiden, wofür sie eigentlich bestimmt sind. Wollen sie ein Karrieresprungbrett sein für junge und beginnende Sänger oder muss der Gewinn des Wettbewerbs den bereits arrivierten Sängern mehr Bekanntheit und bessere Rollen bringen? Darin unterscheidet sich der IVC (International Vocal Competition) in sehr positiver Weise. Man erhält alle Aufmerksamkeit und es wird dafür gesorgt, dass man "reicher" zurückkommt, auch wenn man nicht gewinnt. Man bekommt dort Meisterklassen und gute Ratschläge. Und die Atmosphäre ist sehr freundlich und gemütlich.
Was halten Sie von superrealistischen Szenen auf der Bühne, von Szenen mit Gewalt und explizitem Sex, wie das immer mehr zuzunehmen scheint? Es ist nichts einzuwenden gegen realistische Bilder, aber muss es in allen Details zu sehen sein? Schockieren, um zu schockieren? Alles sehen lassen, was man es auch im TV oder im Netz sehen kann? Ich weiß, dass es Vergewaltigungen im realen Leben gibt, aber muss das auf der Bühne dargestellt werden? Vulgarität auf der Bühne, das habe ich niemals verstanden. Ist auch nirgends nötig. Ich erinnere mich an die Produktion von La Fiamma von Respighi mit dem fantastischen, rumänischen Tenor und meinem sehr lieben Kollegen Gabriel Sadé. Der Regisseur wollte die Liebesnacht so realistisch wie möglich ins Bild bringen: nackt also. Das fühlte sich für uns Sänger nicht gut an. Auf diese Art würde ich mich niemals auf die Rolle konzentrieren können und sicher nicht auf das Singen. Das wollte ich nicht. Es wurde damals beschlossen, uns eine Art "zweite Haut" zu geben. Es sah sehr realistisch aus, aber für mein Gefühl hatte ich nichts an und war nackt. Unangenehm.
Lassen Sie uns über Verismo reden. Eine Strömung, die gegenwärtig so sehr vernachlässigt wird. Es sind auch wenige Sänger, die in dem veristischen Stil singen können. Woran liegt das? Wird das Repertoire zu wenig gespielt, da es keine Sänger mehr dafür gibt? Oder gibt es keine veristischen Sänger, da es nicht gespielt wird? Beides natürlich. Verismo wird als nicht "intellektuell" genug angesehen, darauf schaut man gegenwärtig herab. Wir leben in einer Zeit, die arm ist an echten Emotionen, an echten Gefühlen: Liebe, Empathie, Glaube. Emotionen zeigen gilt als altmodisch, da kann man nichts mit anfangen, wenn man konzeptionell arbeitet. Es gibt keine Nuancen mehr, die haben ausgedient. Aber es sind auch wenige Sänger, die es singen können, das ist wahr. Während der Ausbildung wird viel zu viel Nachdruck auf die technische Perfektion gelegt und zu wenig auf Individualität. Mode und Hype spielen auch eine nicht zu vernachlässigende Rolle. Früher konnte man keine Rossini-Oper ordentlich besetzen, gegenwärtig wimmelt es von den Rossini- und Belcantospezialisten. Heute scheint es so, als ob nur zwei Alternativen bestehen: Alte Musik und frühen Belcanto und Wagner. Irgendwo dazwischen haben wir nicht nur den Verismo, sondern auch Verdi verloren. Man kann leichter einen Tristan besetzen als Macbeth. Das gibt zu doch denken. Aber – und dies ist nicht zu unterschätzen –
die einseitige Auswahl liegt auch an den Dirigenten und ihren Prioritäten. Die Orchester sind groß und laut und glitzernd, und mit Wagner oder Strauss kann der Dirigent besser glänzen.
Ich selber habe eine veristische Natur, die sitzt in mir, mein Körper schreit nach Emotionen. Alles, was ich erreicht habe, habe ich Jan Zekveld (der ehemalige Chef der Zaterdag Matinee) und Patric Schmid (Mitbegründer und Direktor der Opera Rara) zu verdanken. Sie begriffen meinen Charakter und entdeckten meine Möglichkeiten. Beide sahen mein Potenzial und haben mich zu dem gemacht, was ich bin. Sie waren meine Taufpaten. Basia Jaworski
(Übersetzung Beate Rothen-Heithausen mit Dank: Den originalen Artikel fand wir im holländischen Online-Magazin Operamagazine.nl/ das Foto oben zeigt Nelly Miricioiu bei einer der berühmten "Library talks" der Opera Rara in London/ Foto Duncan Russell/ Opera Rara – mit Dank an Kim Panter).
Nachstehend nun auch noch eine Biographie von Nelly Miricioius website (auf der den User gleich Auszüge aus Verdis Macbeth begrüßen – mit dem berühmten "Trionfar") (http://www.nellymiricioiu.com) Lastest news and reviews: Hailed as a singing-actress, Nelly is one of the most versatile artists of our day. Her repertoire extends from Mozart and bel canto to Verdi, Puccini and the verismo to modern italian opera Respighi and Zandonai, taking in French and Russian composers too. As Rodney Milnes wrote in Opera Magazine "this extroadinary diva can sing anything and sing it well ".
Since her Covent Garden debut in 1982 as Nedda in I Pagliacci opposite John Vickers, Piero Cappuccili and Thomas Allen and the 1983 triumphant La Scala debut as Lucia di Lammermoor, Nelly has been heard in all major opera houses of the world. She has worked with some of the most prestigious conductors and directors (in leading roles that include Tosca with Jose Carreras, Jose Cura, Neil Schicoff), Mimi (with Placido Domingo), Violetta in La Traviata (with Franco Bonisolli, Roberto Alagna, Renato Bruson, Alfredo Kraus) and opposite many other leading artists of the day. It was the bel canto repertoire and her dedication to rediscovering forgotten operas where Nelly found her niche. Universally acclaimed for her luscious sound, beautifully constructed technique and exceptional theatrical stage presence, Michael Davdison wrote about her in an article in Opera Magazine: "The highly individual timbre of Miricioiu's voice, her imagination and intensity, her exceptional range and sense of timing make for a unique talent. " (For Notable Performances and Debuts* – see below)
Early life: Born in Adjud, Romania, Nelly started singing at 5 and was hailed as a child prodigy. At 9 she started studying piano and at 14 she won her first singing contest, Young Talents, Great hopes. At 18 she sung in Pergolesi's La serva padrona and joined the Conservatory in Iasi where she continued her studies with Tibi Popovici. In 1972 she was the youngest contestant in the Francisco Vinas Musical Competition in Barcelona and in 1975 she won the first prize at the very first Maria Callas Grand Prix in Athens. More 1st prizes followed at competitions in Geneva, Paris, Sofia, Oostende etc. Nelly made her operatic debut in Mozart's Magic Flute, as the Queen of the Night at Iasi Opera House, and continued to sing at Brasov Opera House between 1975-1978in roles such as Mimi in La Boheme, Micaela in Carmen and Rosalinde in Die Fledermaus.
Scotland and Royal Opera House: In 1981 she fled the communist regime and months later she debuted in Glasgow at the Scottish Opera as Violetta in La Traviata. Manon Lescaut and Tosca followed. A year later she had her big breakthrough and starred at the Royal Opera House in Covent Garden as Nedda in I Pagliacci opposite John Vickers, Piero Cappuccilli and Thomas Allen. After her successful debut she became a household name at the Royal Opera House where she has sung for over two decades in roles such as Marguerite in Faust, Antonia in Tales of Hoffmann, Valentine in Les Huguenots, Norma, Elisabetta in Roberto Devereux to name just a few. In 1996 she was trusted with the revival of the infamous Tosca production for Maria Callas. The revival was a huge success and established her as one of the best Tosca's seen on stage. Clive Hirshon wrote in the Daily Express: "Nelly Miricioiu had the requisite passion for the title role plus a melting pianissimo that ravished the house with its purity of tone." while The Financial Times' Richard Fairman wrote: "her Tosca is an artist down to her fingertips, the kind who turns every wave in a theatrical event". She reprised her appearance as Tosca on the Royal Opera House stage in 2001 and in 2003 she enjoyed an immense success as Elisabetta in Roberto Devereux by Donizetti of which a recording was later released by Opera Rara: "it was Miricioiu's opera, and ultimately her evening. Hers was the longest role and the most demanding, not merely in its manifold technical difficulties but in its range of mood – suspicion, hope, love, hate, joy, pride and finally a bitter, crazed fury. All of these require expression, both in the enunciation of Cammarano's text and in the vocalizing of Donizetti's taxing music. Even the greatest bel canto exponents might experience mishaps over such a long ordeal, but Miricioiu's diligent connection to words, music and meaning held out to the end in singing of outstanding consistency and command." (George Hall – Opera News)
Teatro alla Scala and Europe: In 1983, Nelly Miricioiu made her first appearance at Teatro alla Scala as Lucia di Lamermoor. Her debut on the demanding stage was an absolute triumph. There was unanimous praise from the critics and newspapers for her extraordinary performance. Corriere della Serra said: "La Lucia who resembles Callas Triumphs, Nelly Miricioiu, substituting Luciana Serra, has reaped nine curtain calls.(…) Thunderous applause in the finale of the opera, has opened the doors of success for this singer." After this success, Nelly went on to sing on the stages of the most important opera houses in Europe such as Amsterdam, Bruxelles, Rome, Hamburg, Berlin, Geneva, Munich, Vienna, Salzburg, Paris, Madrid, Barcelona etc. where she has been highly praised and acclaimed for her characterization of roles as diverse as Violetta in La Traviata (a role which she has reprised more than 350 times), Mimi and Musetta in La Boheme, Cio Cio San in Madame Butterfly, Silvana in La Fiamma, Adriana in Adriana Lecouvreur (a role which she debuted at La Scala in 2000), Francesca in Francesca da Rimini, Isabella in Robert le Diable, Elisabetta in Don Carlo, Gilda in Rigoletto, the four soprano roles in Tales of Hoffman, Magda in La Rondine, the title role in Iris by Mascagni and Norma by Bellini, Lucrezia Borgia and the three Donizetti queens, Thais, Semiramide, and many more.
America: Nelly has enjoyed an extremely successful relationship with the Washington Opera, where she sang roles such as Imogene in Il Pirata, Elena and Margherita in Mefistofele, the title roles in Ana Bolena, Lucrezia Borgia, Manon by Massnet and Violetta in La Traviata. In 1989 she made her debut at the Metropolitan Opera in New York as Mimi in La Boheme. She continued to sing most notably in Philadelphia, Dallas and San Francisco and in 2007 she made her house debut at New York City Opera as Agrippina. Nelly has also appeared in South America, where she has had success in Santiago and the famous Teatro Colon in Buenos Aires.
The VARA Matinee Concert series and Opera Rara recordings: In 1985 she began a famous series of Vara Matinee Concerts at the Amsterdam Concertgebouw and over the two decades years continued to extend her repertoire to include the great bel canto heroines. In these roles she could advance her own unique artistry in the way for which she has today become so highly acclaimed. Her Armenaide (Tancredi) at the 1992 Salzburg festival was greatly admired and she continues to sing other Rossinian roles such as Armida, Semiramide and Ermione to similar acclaim. Her recordings include Puccini's Tosca, Mercadante's Orazi e Curiazi, Donizetti's Rosamunda d' Inghilterra (with Renee Fleming & Bruce Ford) and Maria De Rudenz (Maria), Rossini's Ricciardo e Zoraide, Pacini's Maria d' Inghilterra (Maria)- nominated for best bel canto recording of 1998, Mascagni's Cavalleria Rusticana (Santuzza) and a live recording in Rome of Respighi's La Fiamma (Silvana) and Nelly Miricioiu Live at the Concertgebouw. Latest releases including Nelly Miricioiu -A Rossini Gala and Nelly Miricioiu – Bel Canto Portrait were both nominated as records of the year in 2000 and 2001. Roberto Devereux (Elisabetta) recorded at the ROH Covent Garden in July 2002 (by Opera Rara) was released in July 2003 followed by a new recording of Mercadante's Emma D'Antiochia released in May 2005.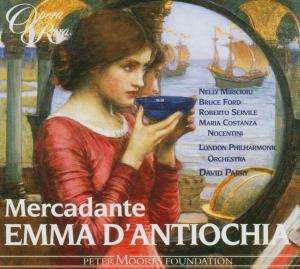 Notable Performances and Debuts *: Nelly made her western European debut as Violetta for Scottish Opera production of La Traviata in 1981 and Covent Garden debut in 1982 as Nedda in I Pagliacci opposite John Vickers, Piero Cappuccili and Thomas Allen followed by a triumphant La Scala debut as Lucia di Lammermoor in 1983*. She has since been heard in all major opera houses of the world and in recitals and concerts (e.g. Salzburg Festival, Concertgebouw, Royal Festival Hall/ Barbican London) working with some of the most prestigious conductors and directors in leading roles opposite many other leading artists past and present. Debut roles and notable performances include Puccini's Tosca with Jose Carreras and Giuseppe Taddei (Frankfurt 1984), Neil Schicoff and Robert Hale (Berlin 1995), Jose Cura (ROHCG 1996) and Roggero Raimondi (Zurich 1998), Mimi in La Bohème with Placido Domingo (Madrid 1986), Violetta in La Traviata with Alfredo Kraus (Frankfurt 1982), Jose Carreras and Juan Pons (Oviedo 1984), Franco Bonisolli and Zancanaro (Verona Festival Opening 1987), Roberto Alagna and Piero Cappuccilli (Monte Carlo 1989), Vicenzo La Scola and Renato Bruson/Leo Nucci (Ravenna 1989); repertoire also includes performances of Mimi in Puccini's La Bohème (Rome 1986/San Francisco 1986/Munich 1987/NY Met 1989), Tosca (Opera Bastille Paris 2002/Barcelona 2003/ROHCG 1996-2009), Manon Lescaut (Scottish Opera Edin. Festival 1982*/Monte Carlo 1985/Florence 1986/Munich 1987), La Rondine with costumes by Karl Lagerfeld (Monte Carlo 1991*/Torino 1994), Title in Verdi's Luisa Miller (Netherlands Opera 1997*), debut as Elisabeth with Vinson Cole, Jose Van Dam in Verdi's Don Carlos (Brussels Monnaie 1996*), Helena in I Vespri Siciliani (Montpellier 1998*/Vienna 2001/Paris Bastille 2003/NY Met 2004), Amelia with Renata Bruson in Simon Bocconegra (Copenhagen Tivoli 1992*), Desdemona with Cornel Murgu in Otello (Copenhagen Tivoli 1993*), Gilda with Georgo Zancannaroin Rigoletto (Philadelphia 1991*/Zurich 1997), Marguerite and Elena in Mefistofele with Samuel Ramey (Washington Opera 1996*/ROH Barbican 1998), Marguerite with Francesco Araiza in Faust(ROHCG 1986*/Berlin 1988/Paris Opera Bastille 1993), Violetta in La Traviata (US Debut San Francisco 1983*/Reggio Emilia 1986/Vienna 1987/Washington 1988/Parma 1990), title roles in Donizetti's Lucia di Lammermoor with Carlo Bergonzi (Moderna 1985); Anna Bolena (Brussels Monnaie 1993*/Washington Opera 1993), Lucrezia Borgia (Washington 1990*/Marseille 2002), Maria Stuarda (Vienna Opera 1993/Lyon 1996) and Elisabetta in Roberto Devereux (Concertgebouw 1994*/ROHCG 2002), the title roles in Rossini's Semiramide (Concertgebouw 1988*/Chelsea Opera London 1998/Geneve Opera 1999/Barcelona Liceu 2005), Armida (Concertgebouw 1988*), Ermione with Chris Merrit and Bruce Ford (Brussels/Concertgebouw 1995*), and Amenaide in Rossini's Tancredi (Salzburg Festival/1992), Bellini's Norma (Rome Opera 1999*/Amsterdam 1999/ ROHCG 2000), Imogen in Il Pirata (Brussels/Concertgebouw 2003*/ Chelsea Opera Group London 2003) and Julietta in I Capuleti e I Montecchi (Catania 1986*), Cilea's Adriana Lecouvreur (La Scala 2000*/Bolshoi 2002/Rome 2002), Mercadante's Emma d'Antiochia (Royal Festival Hall, London 2003* Prem.), Puccini's Tosca (Berlin Deutsche Staatsoper 1995/ Paris Bastille 002/Barcelona Liceu 2003/ROHCG 1996-2009 ), Manon Lescaut (Scottish Opera Edin Festival 1982*/Monte Carlo 1985/Florence 1986/Munich 1987), La Rondine (Monte Carlo 1991*/Torino 1994),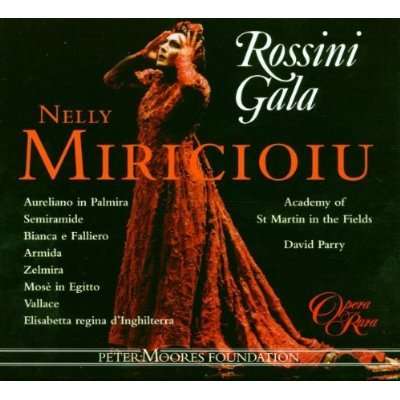 In 1985 she began a 25-year series of Vara Matinee Concerts at Amsterdam Concertgebouw with Massenet's Thais(1985*) the first of many debut roles there, including Donizetti's Three Queens (Anna Bolena 1989*/Maria Stuarda 1992*/Elizabeth 1 in Roberto Devereux 1994* Prem.) and Netherlands premier of Catarina Cannaro in 2010*Prem., also debut in title roles in Gounod's Mireille (Tolouse 1988*), Puccini's Cio Cio San in Madama Butterfly (Hamburg 1992*), Zandonai's Francesca Da Rimini (2000*), Mascagni's Iris with Nicolai Ghiaurov (2003*), Giordano's Fedora with Sherrill Milnes (Teatro Colon Buenos Aires/1998*), Respighi's World Premier of Marie Victoire (Rome 2004* Prem.) and Silvana in La Fiamma(1998*), the three roles of Olympia, Giulietta, Antonia, in Ponnelle's production of Offenbach's Les Contes d'Hoffmann at the Paris Opera (1983*) and Antonia at the Royal Opera House Covent Garden (1986), debut as Valentine with Gregory Kunde in Meyerbeer's Les Huguenots (Montpellier 1990*/ROHCG 1991), and as Isabella in Meyerbeer's Robert Le Diable for the Deutsche Staatsoper (2001*), and Poulenc's one act opera La Voix Humaine in Rotterdam/Maastricht (2009*). (Debuts*)
Und zum Schluss ein Paar akustische Eindrücke von Nelly Miricioiu. Apropos Emotion: "Io son l'umile ancella" aus AdrianaLecouvreur von Cilea: https://www.youtube.com/watch?v=nBAWqSR0VOA; Miricioiu in einer ihrer vielen Belcantorollen: Antonina aus Belisario von Donizetti "Egli è spento, e del perdono": https://www.youtube.com/watch?v=szUmNfGlFL8; Nelly Miricioiu Fanklub: https://www.facebook.com/groups/NellyMiricioiuFanclub/?fref=ts