Kaum einem Opernfan der großen romantischen Werke wird der Name der kanadischen Altistin Huguette Tourangeau unbbekannt sein – im Umkreis der Sutherland-Opern ist sie immer wieder auf Platten  zu hören. Und man erstaunt ob ihrer unglaublichen Tiefe, ob der Besonderheit ihrer bemerkenswerten und hochindivuellen Stimme. Cremig wie eine spanische Süßspeise, herb wie ein bitterer Mandellikör und fast drei Oktaven umgreifend, hatte sie eine wirklich herausragende, dunkle, samtige Altstimme. Glottis und forsches Brustregister eingeschlossen – eine ideale Barock- und Belcanto-Altistin. Vielleicht klang sie in manchen Partien, wie ihrer unvergesslichen Mignon, ein wenig zu robust, aber als Parseis neben der Esclarmonde der Sutherland beherrscht sie die Szene, fügt sich ideal in die Duette und Ensembles ein. Carmen war vielleicht nicht so ganz ihre Lage, aber die bei Decca aufgenommene Thérèse, die Muse/ Nicklausse  im Bonynge-schen Hoffmann und vieles mehr lassen sie als eine der Großen des dunklen Gesangs bestehen – mit einer Stimme wie samtiger Burgunder.
Sie ist nun mit achtzig am 21. April 2018 im heimischen Montréal gestorben, sah auf den letzten Fotos vielleicht nicht mehr ganz so ravissante aus wie auf den wunderbaren Decca-Covers, denen sie einen Teil ihres Ruhms auch verdankt, denn diese gewisse geheimnisvolle Aura umgab sie photographisch von Beginn an, als ihre ersten Solo-Platten auf den Markt kamen. Sie war eine Entdeckung von Richard Bonynge, in dessen entourage sie viel auftrat und ohne dessen Ehefrau auch ihre Karriere langsam auslief. Sie war die Rollenbegleiterin der Sutherland in deren späteren Jahren, anders als die Vorgängerin Marilyn Horne, dunkler, glutvoller und eben geheimnisvoller. In ihrer großen Zeit ließ sie immer wieder die Musikfans aufhorchen ob dieser ungewöhnlichen Stimme mit der delektablen Klangfarbe und den mutigen Brusttönen. Und was hatte sie für ein Rollenrepertoire! Von Händels Cesare bis zu Carmen, von Bertarido bis Malika, von Orfeo bis Adalgisa und Elisabetta/Maria Stuarda durchmaß sie mehr als dreißig Partien und machte diese zu den ihren, unvergesslich. Nachstehend ein Auszug aus Wikipedia und eine ausführliche Würdigung aus der Canadian Encyclopedia (in Englisch). G. H.
Huguette Tourangeau (* 12. August 1938 in Montreal; † 21. April 2018)  wurde am Konservatorium in Québec unter anderem von Richard Bonynge ausgebildet, der ihr wichtigster Förderer war. Er beteiligte sie an Aufführungen als Partnerin von Joan Sutherland und auch an einigen seiner Operneinspielungen. 1964 gewann Tourangeau den Gesangswettbewerb "Auditions of the Air" in New York. Gemeinsam mit dem Ehepaar Bonynge/Sutherland trat sie in Seattle als Mallika in Lakmé, in London als Urbain in Les Huguenots, in San Francisco als Elisabetta in Maria Stuarda, Adalgisa in Norma und als Prinz Orlofsky in Die Fledermaus auf.
Außerdem war sie in Vancouver, Boston, Hamburg, Amsterdam, Mexiko-Stadt, Dallas, Houston, Philadelphia und Santa Fé zu hören. 1973 gab sie ihr Debüt an der Metropolitan Opera New York als Nicklausse in Les Contes d'Hoffmann mit Plácido Domingo als Partner. Sie war vor allem Interpretin des französischen sowie des Belcanto-Repertoires. Ihr Ehemann Barry Thompson war von 1975 bis 1978 Leiter der Oper in Vancouver. (Quelle Wikipedia)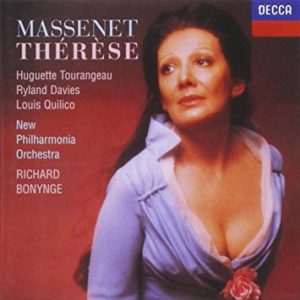 Huguette Tourangeau: (Marie Jeannine) Huguette Tourangeau. Mezzo-soprano (born in Montreal on 12 August 1938;  died on 21 April 2018), deuxieme prix (CMM) 1964. She graduated in pedagogy and piano from the Marguerite-Bourgeoys College and in 1958 enrolled at the CMM for voice study with Ruzena Herlinger, repertoire with Otto-Werner Mueller, and declamation with Roy Royal. In 1962 she was soloist in Monteverdi's Vespro della Beata Vergine for the Montreal Festivals. In 1964 she made her debut as Mercédès in Carmen under Zubin Mehta, who encouraged her to take part in the Metropolitan Operaregional auditions. A finalist among the 5000 candidates, she won a $2000 prize from the Fisher Foundation and was engaged to sing 1964-5 with the Metropolitan National (touring) Company.
In the summer of 1964 Tourangeau sang Cherubino in The Marriage of Figaro under Richard Bonynge's direction at the Stratford Festival, and during the 1965-6 season she appeared in the title role of Carmen in 56 North American cities with the Metropolitan National Company and repeated the role with the New York City Opera. During Expo 67she appeared as Siebel in Faust. Around that time she began to appear and record with Joan Sutherland and Bonynge. She was heard in Seattle (Mallika in Lakmé), London (Urbain in Les Huguenots), and San Franciso (Elisabetta in Maria Stuarda, Adalgisa in Norma, and Orlofsky in Die Fledermaus). At the Hamburg State Opera, in the title role (originally alto castrato) of Handel's Julius Caesar and then in Carmen, she was a marked success. In the fall of 1972 she appeared in Vancouver and Edmonton performances of Lucrezia Borgia.
On 28 Nov 1973 Tourangeau made her Metropolitan Opera debut as Nicklausse in The Tales of Hoffmann (the New York Times described her as 'splendid'). The same year, she sang Bertarido in Handel's Rodelinda at the Holland Festival. Tourangeau excels also in light opera, and in 1972, and again in 1973, with the Santa Fe Opera, she sang the title role of The Grand Duchess of Gerolstein. In June 1974 she joined Joan Sutherland in Australia for the inaugural season of the Sydney Opera House. Other important roles Tourangeau sang in the 1970s included Dorabella in the Metropolitan Opera's Così fan tutte (1975), Arsace in Semiramide for the Vancouver Opera (1975), Rosina in the Edmonton Opera's The Barber of Seville (1976), the title role in Carmen (16 performances) for the Sydney Opera (1977), and Elisabetta in Maria Stuarda at Covent Garden (1977, her debut there). In 1978 she sang Zerlina in Don Giovanni at the Metropolitan, in 1979 Orfeo in Orfeo ed Euridice at the Holland Festival, and Carmen with the Société lyrique d'Aubigny at the Grand Théâtre in Quebec City.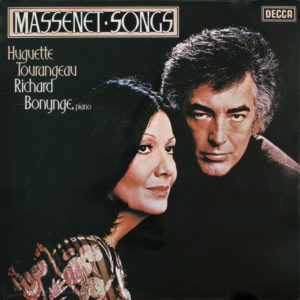 In 1977 Tourangeau became the first recipient of the Canadian Music Council's artist of the year award. Her voice is a flexible mezzo-soprano adaptable to the wide range of the mezzo repertoire, from Rossinian coloratura to the robust sound required by the trouser roles of German opera or the lyric mezzo of the French heroines. She began teaching voice in Montreal in 1984. Her husband, Barry Thompson, was manager of the Vancouver Opera 1975-8 and of the Edmonton Opera Association. Huguette Tourangeau was appointed a Member of the Order of Canada in July, 1997. (Quelle Canadian Encyclopedia/ Foto oben: Ausschnitt aus der Decca-LP/ CD "Arias from forgotten Operas")