Nein, man kann nicht wirklich behaupten, dass es keine Überfülle an spannender Offenbach-Literatur gäbe, die seit dem 150. Geburtstag des Komponisten 1969 herausgekommen wäre, angefangen mit P. Walter Jacobs rororo-Monographie Offenbach in Selbstzeugnissen und Bilddokumenten.  Natürlich gab's auch schon davor Lesenswertes, zum Beispiel Das imaginäre Tagebuch des Herrn Jacques Offenbach des Kölner Musiksoziologen Alphons Silbermann von 1961. Aber man kann sagen, dass sich der Blick auf Offenbach in den zurückliegenden Jahren auffallend geweitet hat und dass viele neue Themenbereiche in den Fokus gerückt sind. Eine bahnbrechende Publikation war 1999 der Band Offenbach und die Schauplätze seines Musiktheaters, herausgegeben von Rainer Franke. Da gibt es Essays zu "Offenbach und die französische Operette im Spiegel der zeitgenössischen Wiener Presse" oder "Offenbach in London: Chronologie der Aufführungen seit 1857", aber auch einen Aufsatz "Zum Theater im Zweiten Kaiserreich" und Manuela Jahrmärkers sensationellen Text "Vom Sittenverderber zum ewig klassischen Komponisten". Außerdem gibt es darin so viele zitierte historische Quellen (Zeitungsartikel usw.), dass es eine Offenbarung ist zu lesen, wie die Zeitgenossen Offenbachs Musiktheater beurteilt haben, wobei "Sittenverderber" noch die harmloseste Formulierung ist.
Ein Jahr darauf erschien dann auf französisch die monumentale Biografie von Jean-Claude Yon, schlicht Jacques Offenbach betitelt (Edition Gallimard ISBN-10: 2070130975). Auch Yon zitiert ausgiebig aus zeitgenössischen Zeitungsartikeln, er tut dies aber vor allem unter Verwendung von französischen Quellen, während bei Franke primär deutschsprachige Quellen verwendet werden. Auch Yon ist eine Fundgrube für grandiose Formulierungen. Darüber hinaus hat Yon keinen Stein unumgedreht gelassen und erstmals mit Dokumenten aus Geburtsregistern usw. das Privatleben Offenbachs durchleuchtet und dabei viel entdeckt, was zuvor gern unter den Teppich gekehrt wurde, z.B. Details zur Liaison mit der Starsängerin Zulmar Bouffar und den unehelichen Kindern von Offenbach. (Bouffar war u.a. die erste Gabrielle in Pariser Leben.)
Später gab's noch eine famose Ausstellung zu Offenbach im Pariser Orsay-Museum (plus Katalog), Offenbach erschien 2012 auch prominent platziert in einer Ausstellung des Theatermuseum Wien unter der Raumüberschrift "Die Geburt der Operette aus dem Geist der Pornografie" (die gleiche Überschrift findet sich im Katalog Welt der Operette). Zur erotischen Dimension des Offenbach-Theaters hatte schon Siegfried Krakauer in Offenbach und das Paris seiner Zeit 1937 einiges sagen, 2014 griff auch Librettoforscher Albert Gier das Thema in Wär' es auch nichts als ein Augenblick: Poetik und Dramaturgie der komischen Operette auf. Und 2015 lieferte Bonnie Gordon von der University of Virginia wegweisende Überlegungen zu den Offenbach-Diven, frühen Formen des Feminismus, Rassismus bei den Pariser Weltausstellungen im Vergleich zum "Ausstellen" von "sexuellen Wilden" auf der Offenbach-Bühne. Ihr Beispiel ist Émile Zolas Roman Nana, von dem ausgehend Gordon zu Sara Baartman (der "Schwarzen Venus") kommt, zu Hortense Schneider und Cora Pearl (beide legendäre Offenbach-Interpretinnen und Halbwelt-Göttinnen) und schließlich zum Hier und Heute.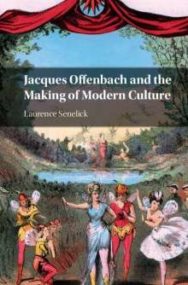 Nun steht 2019 der 200. Geburtstag von Offenbach vor der Tür und schon jetzt sind etliche Offenbach-Neuerscheinungen auf den Markt gekommen. Bahnbrechend ist zweifellos Laurence Senelicks englischsprachige Studie Jacques Offenbach and the Making of Modern Culture, bei Cambridge University Press (ISBN  9780521871808;  zu einem recht exorbitanten Preis erschienen. Aber trotzdem ist das Buch ein Must-have: weil Senelick genau nachzeichnet, wie und warum Offenbachs Stücke global Furore machten. Es ist also weniger eine Biografie, sondern eine Wirkungsgeschichte, die zu Offenbachs Lebzeiten einsetzt und bis in die jüngste Vergangenheit reicht. Die Bilder von Aufführungen in Japan, der Sowjetunion oder den Vereinigten Staaten sind atemberaubend.
In seinen Analysen weist Senelick nach, dass er die vielen neuen Ansatzpunkte rund um Offenbach und Operette zur Kenntnis genommen hat: von Gender Studies bis zu postkolonialen Rassismusdebatten und LGBTIQ-Interpretationen ist so ziemlich alles dabei, was mein Herz begehrt. Ich habe das Buch verschlungen und den Preis nicht bereut.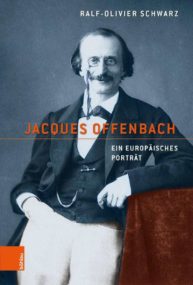 Das könnte ich von Ralf-Olivier Schwarz' Jacques Offenbach: Ein europäisches Porträt im Böhlau Verlag (ISBN 9783412512958)  nicht wirklich behaupten. Es zeichnet ganz klassisch den Werdegang Offenbachs nach: von Köln nach Paris, dann zurück und weiter nach Wien und Bad Ems. Abgesehen von einigen schönen Zitaten aus Offenbachs Privatkorrespondenz an seine Geschwister und Kollegen war in dem Buch wenig, was nicht schon 1969 von P. Walter Jacob abgedeckt worden wäre. Der allerdings definitiv die besseren Bilder hat.
Was Schwarz stattdessen neu liefert sind recht ausführliche Inhaltsangaben von vielen Stücken, so dass man immer weiß, was in den Werken, von denen er spricht, passiert. Aber was diese Werke besonders macht – und warum sie trotz der teils einfachen musikalischen Struktur – in den höchsten Gesellschaftskreisen Europas solch eine Wirkung entfalteten, das diskutiert Schwarz nicht. Für ihn sind es (fast) immer geniale Kompositionen; mehr muss man nicht wissen, mehr scheint ihn nicht zu interessieren.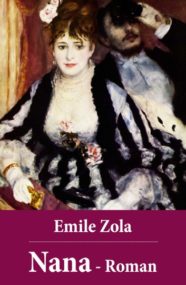 Er zitiert recht ausführlich Zolas Nana, das Kapitel in dem eine Operettenaufführung im Théâtre des Variétés beschrieben wird. (Der Ort, wo die großen Offenbachiaden Schöne Helena und Großherzogin von Gerolstein uraufgeführt wurden mit Hortense Schneider, das Theater, wo der Prince of Wales La Snédèr in ihrer Garderobe aufsucht, was bei Zola im Detail geschildert wird und wenige Fragen offen lässt.) Aber Schwarz' Zitieren endet dort, wo Zola ausmalt, was die eigentliche Wirkung von Nana ausmacht: nämlich ihr unverschämter Nacktauftritt, der die Männer im Publikum "mit Wahnsinn schlägt" und "Abgründe der Begierde aufreißt". Dazu gibt es in Offenbach und die Schauplätze seines Musiktheaters historische Quellen, die belegen, dass Zola nicht frei fantasiert hat. Schwarz lässt auch die Zola-Passage weg, in der der Direktor des Théâtre des Variétés sagt, an seinem Haus gehe es nicht um "Kunst", vielmehr sei das Theater "ein Bordell". Dazu hat Laurence Senelick in seinem Essay "Sexuality and Gender" in der Reihe The Cultural History of Theatre in the Age of Empire 2018 ebenfalls ausführlich publiziert: von den Verträgen, die Schauspielerinnen verpflichteten, mit Besuchern zu schlafen, vom Zurschaustellen von Körpern, von Prostitution und von den Auswirkungen all dieser äußeren Umstände auf das musikalische Unterhaltungstheater.
Bei Schwarz wird das alles weggelassen. Offenbach ist der liebe nette sympathische Familienvater, der zwar gern ohne Ehefrau auf Reisen geht. Aber dessen Seitensprünge nicht weiter von Belang sind, wenn's darum geht, seine Bedeutung als Komponist zu beurteilen. Die Erkenntnisse von Carolyn Williams aus Gender, Genre, Parody zur Parodieoperette und Modernität des Resampling-Verfahrens lässt Schwarz gleichfalls unerwähnt. Was Offenbach eigentlich genial macht, was Operette so erfolgreich macht, was das eigentlich Neue an dem Genre à la Offenbach ist oder warum Offenbach-Diven exorbitante Gagen bekamen, weit über dem Durchschnittseinkommen für Schauspielerinnen in der Zeit (wie bei Senelick nachzulesen) … dazu hat Schwarz nichts zu sagen, gar nichts.
Stattdessen wird recht ausführlich aus dem 1940er Erinnerungsbuch von Offenbachs Enkel Jacques Brindejont-Offenbach zitiert (Mein Großvater Offenbach), ohne jemals zu hinterfragen, wie verlässlich dessen Beschreibungen eines harmonischen Familienlebens sind, von dem er bestenfalls durch Hörensagen wusste. Es muss wohl nicht extra erwähnt werden, dass solche Familienerinnerungen eines Enkels niemals verlässliche Quellen sein können, besonders dann nicht, wenn Yon das genaue Gegenteil nachgewiesen hat: damit ist nicht gemeint, dass Offenbach kein guter Familienvater gewesen sei, sondern dass er sein Leben schlicht in mehrere Sphären einzuteilen wusste, die sauber getrennt blieben. Und die Trennung ist für seine Karriere nicht unerheblich, somit also auch von Bedeutung für die Beschreibung seines Oeuvres. Eine Analyse – oder zumindest Erwähnung – solcher Mehrschichtigkeit sucht man bei Schwarz vergeblich. Die explizit "europäische" Dimension von Offenbachs Leben übrigens auch.
Ralf-Olivier Schwarz ist als Experte beratend beteiligt an den umfangreichen Feierlichkeiten zum 200. Geburtstag, bestehend aus vielen Aufführungen in Köln von seltenen und verschollen geglaubten Stücken von Offenbach und seinem Umfeld, dazu gehört auch das Singspiel Esther, Königin von Persien von Vater Isaac Offenbach. Das ist wunderbar und superspannend. Es ändert aber nichts daran, dass ich persönlich die Biografie viel zu brav fand: brav im Sinn von Weglassung von allem, was irgendwie "provozierend" sein könnte.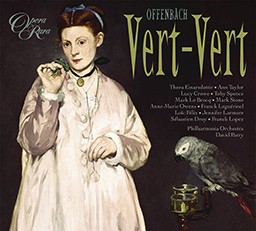 Aber Offenbachs Musiktheater war für die Zeitgenossen eine Provokation. Darüber hat u.a. Patrick O'Connor ausführlich im Opera-Rara-Booklet zu Vert-Vert (ORC 41) geschrieben, wo er dokumentiert, dass Offenbachs Ausflüge an die Opéra Comique vor allem deswegen scheiterten, weil das bürgerliche Publikum um den Ruf und die Heiratschancen seiner Töchter fürchtete, wenn sie in einer Offenbach-Aufführung gesehen würden. Das gleiche beschreibt auch Offenbach-Darstellerin Emily Soldene in My Theatrical and Musical Recollections mit Bezug auf die Auftritte von Hortense Schneider 1870/71 als Großherzogin von Gerolstein in London. Das Theater war halb leer, weil das bürgerliche Publikum von Schneiders derber Darstellungsform entsetzt war und um die "Sittlichkeit" der Familienangehörigen fürchtete, während der Adel und Hochadel in den teuren Logen saß und applaudierte. Ihnen war egal, was die Welt von ihnen dachte; sie konnten es sich leisten, unsittlich zu sein.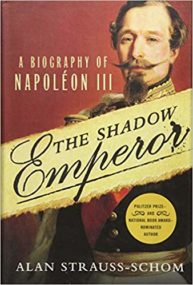 Auch was die politische Dimension Offenbachs ausmacht bleibt bei Schwarz vage. Da ist ein gleichfalls neues Buch von Alan Strauss-Schom deutlich ergiebiger, nämlich eine Biografie von Napoleon III. Unter dem Titel The Shadow Emperor (St. Martin´s Press,ISBN-10: 9781250057785) erfährt man viel zur Welt des Zweiten Kaiserreichs und viel zu jenen Personen, die Offenbach protegierten, allen voran Napoleons Halbbruder, der Graf von Morny. Ich war wirklich gefesselt von den Fakten, die Strauss-Schom zu Morny ausbreitet, weil sie verständlich machen, wieso Offenbach unter Mornys Schutz diese Form von Theater überhaupt an der Zensur vorbeibekam und wieso Mornys Freunde aus dem Jockey Club und Kaiserhaus ins Offenbach-Theater stützten. Vor Jahren hatte bereits Regisseur Istvan Szabo im Film Offenbachs Geheimnis gezeigt, dass Morny der eigentlich Strippenzieher hinter all den politischen Anspielungen und Witzen bei Offenbach ist. Nach Lektüre von Strauss-Schom scheint mir das absolut plausibel. Ralf-Olivier Schwarz erwähnt Morny kaum; und dass der Graf der Patenonkel von Offenbachs einzigem Sohn ist, erscheint Schwarz auch nicht besonders diskussionswürdig.
Wer historische Hintergründe zu Offenbach will, sollte sich also an Strauss-Schom halten, dessen Buch ein eigenes Offenbach-Kapitel enthält. An Yon kommt eh niemand vorbei, wobei es tragisch ist, dass dieses Buch bislang nicht ins Deutsche oder Englische übersetzt wurde. Für 2019 ist auch keine entsprechende Ausgabe in Sicht.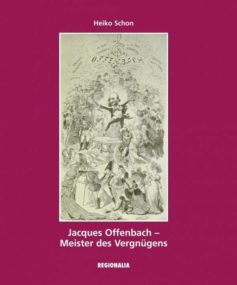 Wer einen Überblick über die wichtigsten Stationen von Offenbachs Leben sucht, ist bei Schwarz genauso richtig wie bei der rororo-Monographie von 1969. Wer ausführlichere Inhaltsangaben von unbekannten Werken sucht, findet sie auch bei Heiko Schon in dessen neuem Buch Jacques Offenbach – Meister des Vergnügens, inklusiver einiger interessanter Verweise auf Plattenaufnahmen (s. operalounge.de)
Man könnte sagen: Zu Offenbach und 2019 ist das finale Wort noch nicht gesprochen. Ich bin gespannt, was für Bücher noch herauskommen werden. Nachdem ich unlängst eine Schöne Helena-Aufführung mit Studierenden der UdK Berlin sehen durfte, habe ich jedenfalls Bonnie Gordon nochmals aus dem Regal geholt, neu gelesen und mich gefragt, wie rassistisch eigentlich die EMI-Aufnahme der Belle Hélène mit Jessye Norman ist? Da führt dann eins zum anderen … und letztlich führt alles zu Themen, die heute weltweit heiß diskutiert werden und in deren Kontext man auch Offenbach und Operette sehen kann bzw. sollte. Es sind aber genau die Kontexte, von denen Schwarz nicht spricht. Ich persönlich finde das sehr enttäuschend, andere wiederum finden es vielleicht beruhigend im Sinn einer gewissen Retro-Nostalgie. Kevin Clarke / Operetta Research Center  (Foto oben: Jaques Offenbach fotographiert von Nadar, um 1860/ Wikipedia)
Und nun zum Interview: Das Offenbach-Jahr zeitigt im Vorfeld viele, wenn auch nicht all zu viele Aktivitäten der Erinnerung. Hannover und Paris brachten den Roi Carotte heraus, zahllose Hoffmänner erblichten das Licht der Theater, in Strasbourg gab es den unbekannten Bartouk und manches mehr an deutschen wie europäischen Bühnen. Heiko Schons neues Offenbach-Buch wurde in operalounge.de rezensiert (nebst einem Interview mit dem Autor)  und ORCA, das Operetta Research Center Amsterdam in Gestalt von Leichte-Muse-Fachmann Kevin Clarke sprach auch mit Laurence Senelick über dessen neues und oben erwähntes Buch "Jacques Offenbach and the Making of Modern Culture" bei Cambridge University Press (ISBN  9780521871808). Wir freuen uns, dieses Interview "nachzudrucken", das bereits auf der ORCA-website nachzulesen ist. Auch wir lieben Offenbach, und danken beiden Beteiligten. Nachstehend also Kevin Clarkes Interview mit Professor Selineck, in English of course. G. H.
At long last someone has written a brand new Offenbach book – in English. And what's even better, it's a great book full of historical facts mostly overlooked (or ignored) by the English language operetta world; they certainly don't pop up in books such as Richard Traubner's well-known Operetta: A Theatrical History. Laurence Senelick paints a much more 'gritty' and 'sexually charged' picture of the genre and how it started in Paris and Vienna in the 1850s, asking what made operetta so revolutionary – and what made Offenbach so incredibly successful. The title of the new book is Jacques Offenbach and the Making of Modern Culture, published by Cambridge University Press in the wake of the bicentenary of Offenbach's birthday 2019. Mr. Senelick has also recently published the essay "Sexuality and Gender" in The Cultural History of Theatre in the Age of Empire", edited by Peter Marx (im Verlag Methuen Drama;  ISBN 97814725858449);  it too deals expansively with Offenbach in Paris, London, and New York City. Laurence Senelick is Fletcher Professor of Drama and Oratory at Tufts University and a Fellow of the American Academy of Arts and Science. He has agreed to give the Operetta Research Center an exclusive interview about his work on Offenbach – and his personal take on operetta. (Und wir von operalounge.de danken für die freundliche Genehmigung zur "Übernahme")
After many (award winning) books on Russian theater (Gordon Craig's Moscow 'Hamlet') or queer themes such as The Changing Room: Sex, Drag, and Theatre, you have now devoted yourself to Jacques Offenbach and "The Making of Modern Culture." What attracted you to Offenbach's 19th century world of opéra bouffe? What was the initial impulse to delve into such an enterprise, as Professor of Drama and Oratory? I have to approach this question from two directions: the personal and the professional. First, as a child I was a great Gilbert & Sullivan fan and knew the Savoy operas virtually by heart. But as I matured, I realized that there was at least one fundamental element of human nature absent in those works – sexuality, indeed any kind of passion. This was provided in some small way by the Viennese school (one of the first LP albums I bought was the Schwarzkopf Lustige Witwe), but what was appealing about Offenbach was his lack of sentimentality. In addition, he reveled in nonsense, as did I. My first experiences of Offenbach in performance were uneven: the appalling Met Périchole on tour, the film of Tales of Hoffmann, a delightful conservatory staging of Ba-Ta-Clan, but I collected whatever I could on vinyl. The scarcity and the relative obscurity of Offenbach were tantalizing.; it too deals expansively with Offenbach in Paris, London, and New York City. Laurence Senelick is Fletcher Professor of Drama and Oratory at Tufts University and a Fellow of the American Academy of Arts and Science. He has agreed to give an interview about his work on Offenbach – and his personal take on operetta.
Now as to professional interests: I was among the first wave of American scholars to make a serious study of popular entertainment of the past and then one of the first to explore gender and sexuality in performance. Offenbach sits at the nexus of these phenomena. Moreover, he was turning into a Zelig. Wherever I looked, at European performers in Japan or theatre in the concentration camp, there was Offenbach. I kept expecting that others would catch on to his ubiquity, but, despite biographies and monographs on individual aspects, no one had tried to pull together all the threads of his influence throughout the world. I had already done something like that for Chekhov, and decided it was incumbent upon me, with his bicentenary looming, to make Offenbach's wider significance apparent – and in the process share my enthusiasm.
What were/are the reactions of your colleagues at Tufts University or elsewhere to an operetta enterprise like this? My colleagues in the Drama and Dance Department had no idea what a study of Offenbach might entail, but for a long time we have offered courses in musical theatre. Barbara Grossman's class in the American musical is extremely popular, and for many years I taught a workshop in Cabaret, which, in addition to studying the history and varieties of the form, presented a public cabaret as its final project. In the Music Department, opera experts were cheer-leaders from the start, and found opportunities for me to present my research to opera study groups. I have lectured on Offenbach not only at Tufts, but at Harvard, Stanford, the American Society for Theatre Research, the University of Cologne, Queen's University, Belfast, and the Ludwig-Maximilian University in Munich. In every case, my audiences confess to a revelation: they had never before realized how important or how all-pervasive Offenbach is.
While there have been endless scholarly publications on Offenbach in German, over the past decades, and while there has been a lot of new material published on operetta in general, the English language output has been limited. Your book is the first on Offenbach in a long while, and it's coming out at Cambridge University Press. Why do you think there have been so little English language publications? Has the revival and re-appreciation of operetta, that can be noted in Germany, not reached the English speaking theater world or academia? Actually, for a long while, there was a tendency in German academe to sideline comic opera as "Triviallliteratur." Nevertheless, Offenbach has retained a place on the German-speaking stage longer and more prolifically than in English. So German and Austrian readers may be more familiar with his music. Because of his hybrid nature – a Jew from Cologne who seemed to straddle French and German cultures comfortably – he fits more neatly there. The centrality of Offenbach studies in Bad Ems is also relevant. Anglophone cultures think of operetta largely as Gilbert & Sullivan (Strauss and Lehár are exotics), who evolve easily into musical comedy. Only within the last decade or so has "light opera" caught the attention of academics here, and usually in terms of global or transnational theatre trends. Another problem is the notorious reluctance of Americans to master foreign languages: Offenbach is best appreciated in French, and to study him one has to have German as well. Finally, as I note in my foreword, scholarship has, until recently, tended to shrink from anything wildly comic or unabashedly anarchic.
You say that the current "general impression" most people have of Offenbach is "based on misinformation." And that the cliché image of Offenbach "hardly does justice to a virtuosic and original musical genius." What is that "standard Offenbach image," and how to you try to set the wrong image straight in your book? My statement of the "general impression" of Offenbach was overly generous. Whenever I told an average educated theatre-goer that I was writing a book about Offenbach, the reaction was a blank look. Either the name meant nothing to him or he had heard of Tales of Hoffmann. Some could identify the cancan.
So my book had first to inform and only then to correct. However, I didn't want to write another biography or retail the standard anecdotes. I used the Introduction to indicate aspects of Offenbach relevant to the "making of modern culture," and the first chapter to sketch the outline of his French career, with later chapters filling in other aspects. Part of my "basic strategy" is to demonstrate his omnipresence in all sorts of cultural manifestations throughout the past century and half. He's been there all along, but overlooked.
You describe, at length, some of the prima donnas who performed Offenbach shows originally, and made them international successes. You point out that they earned exception salaries with roles such as Genevieve, Hélène, Grand-Duchesse or Périchole. (Up to $ 1,200 monthly, paid in gold, while the average leading actress in the best dramatic theaters were paid $ 50 a week!) What characterized the performances of original divas such as Hortense Schneider, Emily Soldene, Marie Geistinger, Léa Silly, or Julia Matthews? How do they fit the widespread US notion of "operetta," as laid out by Richard Traubner in Operetta: A Theatrical History, where we read in the 2003 update that the genre is about "flowing champagne, ceaseless waltzing, risqué couplets, Graustarkian uniforms and glittering ballgowns, romancing and dancing! Gaiety and lightheartness, sentiment and Schmalz"? Traubner's characterization applies far more accurately to Viennese operetta than to Offenbach who is low on waltzes, sentiment and Schmalz. Nor does it apply in general to opéra bouffe or opéra comique, Offenbach's chief genres. Cambridge University Press asked me to delete 100 pages from the manuscript of my book. In the process, whole sections that dealt with the careers of individual divas such as Josefine Gallmeyer and Anna Judic had to go by the board. Of Offenbach's favorites, Lise Tautin was puckish, Zulma Bouffar saucy, Hortense Schneider suggestive. He tailored roles to their personalities. Outside France, the leading ladies often felt free to be far more daring and come-hither. Even there, however, there is a wide range: Dévéria was alluring, Emily Soldene matey, Lillian Russell stately. High-end critics often evaluated them first on their vocal ability, and then on their "personal" qualities: looks, charm, comic spirit, élan. In the 1860s and '70s, outside of France, there was usually comment on the level of innuendo, vulgarity or sex appeal they projected. Standards of beauty change rapidly, but if one examines the portraiture of Offenbach's leading ladies, at least in the 19th century, they are buxom rather than svelte, with well-proportioned limbs and generous bosoms. This well-upholstered physique was the norm, however, and didn't change until the 1920s (I mention how the opulent Lillian Russell was supplanted by the trim Edna Wallace Hopper.)
You quote a great many historical sources – from all over the world – that describe Offenbach's theater as "only suited for a limited section of the public." That section being: "dissolute young 'gents' and battered old rakes." (The Theatre, November 1878.) Would you say that this "sexual" aspect of 19th century operetta is important for understanding the immediate popularity of the new genre? And is this "sexually liberated" form of musical theater unique, and maybe modern, from the perspective of today's "generation porn"? One of the most important developments in theatre history after the Second World War was Rezeptionsgeschichte. No theatrical form can be understood without a study of the public at which it was aimed. Offenbach was keenly alert to the tastes of his audience(s), which is why his style altered from the 1850s into the 1870s. Unlike Wagner with his Music of the Future, Offenbach believed that music was for the here and now, the present moment. However, even if he catered to his public, he did not pander. True, a great many playgoers were men about town eager to ogle an ankle (this was the case as well with the ballet and grand opera); but the audience was also packed with musical connoisseurs, persons of taste and judgement, and the best brains of the society. Much of the moral opprobrium expressed in 19th-century criticism is deliberately overstated. In writing his music and planning his effects, Offenbach attended to the old adage, "Perform for the smartest person in the room." He sought not simply to titillate but to liberate the public from convention and social restrictions.
Even though there are so many quoted articles from the German research world, one article that explicitly deals with Offenbach and sex is absent: "The Birth of Operetta from the Spirit of Pornography," included in the catalogue of the Theater Museum Vienna for its exhibition Welt der Operette/World of Operetta (2012). Did you not want to discuss "pornography" in your book? Did you find it unsuitable or unserious? (And I'm not just asking this because I wrote the essay.) I regret that I was unfamiliar with your article and the catalogue in question. By 2012 I had accumulated two decades' worth of material, which need to be sorted and evaluated; so I decided to be highly selective in anything new I consulted. I was not by any means avoiding a discussion of pornography. A glance at my bibliography, including my contributions to The Dictionary of Erotic Literature, will indicate that I have written a great deal on sex, homosexuality, pornography and cross-dressing in the theatre over the course of forty years. I published the first anthology on gender in the performing arts and translated (from the Dutch) the first "coming-out" play.
In the case of Offenbach, I thought it more important to rehabilitate him as a satirist and absurdist, in hopes of awakening interest among musicologists, cultural historians and, most important, opera companies. In his lifetime and afterwards, the composer was often dismissed precisely because of his so-called licentiousness. I thought that, by quoting so many censorious appraisals, I made that facet abundantly and proportionately clear. Perhaps touting him as a pornographer might evoke more interest, but I don't believe he was one – after all, a pornographer has only one goal, to arouse sexually. What's more, pornography is best consumed individually or in the dark, whereas eroticism can be shared in a public arena. I deplored the blatant sensationalism of certain current productions, because some contemporary opera directors are prone to coarsen and distort the works they stage in search of shock effects. In any case, in my book Offenbach is praised throughout as a liberator from convention and tradition, including their sexual manifestations.
You describe, at length, how Offenbach (and operetta) transitioned "from paragon of prurience to a good outing for the kiddies." How and why did such a transition happen? And why has it never been reversed, especially after the second sexual revolution of the 1960s/70s? Wouldn't a re-focus on Offenbach's "prurient" side be far more rewarding that positioning him as a "timeless classic," as a "Mozart of the Champs Elysées"? Are younger people incapable of even imagining such a side in operetta, even if the information is given to them quote by quote (as you do in your book)? That particular transition refers only to London in the 1880s and '90s, when anodyne opéra-comiques such as Mme Favart were most popular. Even now Offenbach is not considered suitable for Christmas matinees. Barbe-bleue cannot be turned into Hänsel und Gretel.
I have addressed some of these issues in the previous answer. I can hardly believe that my book plays down the prurient side of Offenbach; chapter after chapter reports on condemnations of his work as ranging from titillating to downright filthy.
The sexual revolution of the 1960 and '70s devised its own music, particularly the rock opera, to express its passion. The Rocky Horror Show is a kind of Orphée aux enfers for that generation. When contemporaneous attitudes to sexuality are injected into musical theatre of the past, the idea is to regenerate familiar classics in the often mistaken belief that this makes them more accessible to modern audiences (e.g., La Traviata set in an AIDS ward). Offenbach, except perhaps for Hoffmann, is too little known to benefit from radical reinterpretations. (One extreme exception was the Josephine Baker La Créole, but that was a star vehicle.)
Besides, in our blasé era, the forbidden thrill spectators of 1865 might get from a shapely leg or a naughty pun is hard to recreate. I think more appealing sides of Offenbach for young people might be his disrespect for authority, his reversal of values and his trajectory towards chaos.
You devote an entire sub-chapter to Emile Zola's novel Nana (1880) which you describe as "the most obsessional attack on La belle Hélène," driven by "jealousy" and detestation of the Second Empire. Yet, what Zola describes as back-stage activity matches many of statements about Offenbach and the close association of operetta with the demi-monde. It also matched, 1:1, what we read in encyclopaedias such as Meyer's Conversations-Lexikon 1877, where there's more or less the same description of Offenbach as in Zola's novel. Should we not take Zola's description of the theater scene in Paris 1860 more seriously? And if we do, what can we learn about the original impact of operetta? (And operetta theatres as brothels? Isn't such a re-appropriation of venue similar to modern day pop concerts?) Zola prided himself on being a documentarian who got his facts right; but he also claimed to be an objective observer, which is not at all the case. Besides describing what he sees, he is attempting to make operetta a symbol for the corruption of the Second Empire, and that is to overstate the case. Zola's distaste for opéra bouffe (not just Offenbach) has to do with the French hierarchy of artistic values. Zola was trying to promote fiction as a branch of science and naturalism as the best approach to drama; the popularity of operatic burlesque detracted from that effort.
In his novel "Nana", Emile Zola describes a "Belle Hélène" performance that is only slightly veiled as "The Blonde Venus". Zola makes it very clear why the original diva attracted such attention, and caused such a sensation. As to the Conversations-Lexikon, German treatments of Offenbach after the Franco-Prussian War are invariably denunciatory, if not downright anti-Semitic (which is why Nietzsche is such an outlier). Many moralists condemned all performances other than serious dramatic offerings as licentious and demoralizing. Yes, there were playhouses exclusively dedicated to"pièces à femmes" whose only function was to serve as a bordello showroom, but even they were not pornographic in the modern sense. (Pornographic performances took place only in brothels or as puppet-shows for invited guests.)
Yes, operetta theatres projected sexuality from the stage, but as a by-product of the music and entertainment they purveyed, not as the primary function.  I don't see pop concerts as an analogue because they stimulate audience participation. However, Dionysian the galop at the end of Orphée, it neither requests nor requires dancing in the aisles.
You trace Offenbach performances around the world. One surprising chapter deals with Offenbach's operettas being performed in the Arab world. From today's perspective it seems almost unthinkable that someone like Hortense Schneider as a semi-nude Helen could appear in a Muslim country, by invitation of the state leader. What happened, what's the story here?  In fact, although the Khedive wanted Schneider to inaugurate his theatre, it was Céline Montaland, a somewhat more subdued performer, who premiered Offenbach in Cairo. One has to remember that the Ottoman Empire was not fanatically religious, and that Ismail Pasha was a Westernizer who had fallen in love with Paris and its pleasures.
We don't know how Hélène was costumed at that performance, but in any case the Arab audience would have viewed this as something Other. It is noteworthy that the Egyptians in the audience wore Western formal dress, so that the whole occasion was removed from everyday life. And once the Khedive was deposed, the operetta theatre was closed, ending this chapter. Later versions of Offenbach were thoroughly assimilated to Arab culture.
In your final chapter, you discuss recent model performances and influential recordings. You name Felicity Lott and Frederica von Stade as "accomplished artists" who have "devoted themselves to perfecting the Offenbach style." Considering that Lott and von Stade are both classic opera singers, coming from Mozart and Richard Strauss, how does their singing compare to the style of Offenbach's original prima donnas? Is it really the "right" style for Offenbach to have such artists interpret his music/roles? And if Lott/von Stade are "perfecting the Offenbach style" for current listeners, why is Jessye Norman as Hélène "a misguided attempt to titivate the operas"? Where's the difference, and are there alternatives on record we can listen to? (Should musical comedy stars sing/perform Offenbach? Would their style be closer to what the original divas and divos did?) We are fortunate in having recordings of some of the creators of Offenbach's works. They are not what we consider musical-comedy voices nowadays (nor are the first sopranos and tenors of Gilbert and Sullivan): they have an operatic quality. However, this is less an issue of timbre or range, than of interpretative skills. A superb Offenbach singer like Fanély Revoil can point a lyric so that its innuendo or comic gist comes across beautifully. Lott can do it, Norman cannot.
Maggie Teyte's rendition of La Périchole's letter aria is one of the best ever recorded, but it's unlikely that she could have sustained a convincing performance of the whole role. One of the most misguided recording projects was to have Joan Sutherland sing Noël Coward: there is no lightness of touch, no pointing of phrases, no crisp diction. An Offenbach singer requires not only a voice trained for Mozart or Rossini, but acting ability, glancing wit. This also holds true of the dialogue. French performers are capable of racing through the words, while coloring them with meaning and nuance. German operetta singers are also pretty good at filling a line with expression, but English-speakers are almost always leaden and flat-footed in their delivery.
However, it is hard to choose between glorious singing and comic timing. In the first production of La Vie Parisienne and in Barrault's,most of the cast were actors, and the interpretation didn't suffer. On the contrary.
On the last page of your book you talk about an LGBT reading of Offenbach's Le Grande Duchesse in Paris, 2013. Yet elsewhere in the book you don't discuss the LGBT relevance of Offenbach and/or operetta (e.g. in Island of Tulipatan and the notion of a same-sex marriage). Did this aspect not interest you? (It seems to have recently interested producers in the USA who released the very first English language recording of that show in 2017.) It is not a question of my interest, since I was recording the fortunes of Offenbach in the world. The Island of Tulipatan was rarely staged before my book was in production, and even now recordings outnumber performances. The gender-switching certainly opens itself up to ponderous exegesis and "queer theory," but I doubt if Offenbach or his librettist intended anything other than a tantalizing jeu d'esprit that allowed for plenty of double entendre.
Similarly, Offenbach has never been regarded as anything other than an exuberant expression of the heterosexual libido until recently. Some of the current experiments in "queering" Offenbach seem to me more an attempt to épater the average opera-goer than a serious re-interpretation of the libretto (let alone the music).
After your book, what do you hope will be the next step in Offenbach research in the English language world? And what would you personally like to see happening for the Offenbach bicentenary in 2019, in the USA or UK? I would like to see the opera-producing community take a lively interest in Offenbach, resulting in a rash of new performances, particularly of the neglected operas. This may entail new translations, although if the operas cannot be performed entirely in French, then (ideally) only the dialogue should be translated and supertitles provided for the songs. At least one Offenbach piece should be in the repertoire of every opera company in the bicentennial year, and several in such specialized operations as the Ohio Light Opera Festival. New commercial recordings and special issues of musical journals should certainly devote much of their activity to Offenbach in 2019.
Performance is its own kind of research. As is common nowadays, these performances issues of musical journals should be devoted to the occasion. Possible commemorative events have been planned for Paris and Cologne, I hear, but so far the news is nebulous. There's no doubt that we shall be inundated with the cancan and the barcarolle, but that's tolerable so long as the rest of Offenbach's remarkable oeuvregets a hearing. Kevin Clarke (mit Dank an ORCA)