Erneut zeitigt die Zusammenarbeit des Palazetto Bru Zane mit einer Opernorganisation überraschende, ungeahnte Früchte – Davids Oper Lalla Roukh wurde im vergangenen Jahr an der Lafayette Opera gegeben und ist nun als CD bei Naxos (Naxos 8.660338-9, 2 CD) erschienen. Das ist Grund zur Freude für die Fans der französischen Oper, namentlich die der frühen Romantik, dem erklärten Ziel  der Bemühungen des in operalounge.de viel erwähnten Sponsors/Motivators Palazetto Bru Zane.
Im Folgenden finden sich verschiedene Beiträge aus verschiedenen Quellen: Unser Korrespondent Charles Jernigan sah die Aufführung im Januar letzten Jahres und berichtet darüber (in Englisch, pace pace, aber sein ungemein positiver Eindruck von der Aufführung deckt sich mit meinem Höreindruck außerordentlich, zumal nun auch das Französisch/englische-Libretto wie meist bei Naxos herunter geladen werden kann; chapeau  nun auch dafür!/G.H.); und der Dirigent Ryan Brown, Opera-Lafayette-Gründer und renommierter Champion für das Oeuvre dieser Epoche, das er auf zahlreichen Aufnahmen u. a. bei Naxos realisiert hat, schreibt im Programmheft/Website der Opera Lafayette über das Stück und die Motivation zur Aufführung der Oper. Alles in allem ergibt sich ein gutes Bild vom Komponisten und seinem bislang in der Neuzeit nie  gehörten Werk, dessen Thomas-Moore-Sujet ja auch bei Komponisten der deutschen Romantik eine Rolle spielt (namentlich bei Schumann). Freuen wir uns also über die Naxos-Ausgabe, die David in bestem Klang gerecht wird. G. H.
Charles Jernigan schreibt auf seinem blog:  The last of the operas we had come to New York to see (in January, 2013) was Félicien David's Lalla Roukh, performed at the Frederick Rose Theater on Columbus Circle by the Washington, D.C., company Opera Lafayette.  This enterprising young company has been performing rare examples of French baroque opera, mostly opera comiques (with spoken dialogue) for the last several years, and this was its first excursion into the vast and little known repertory of nineteenth century opera comique.  (Opera Lafayette has just performed a nineteenth century French version of Così fan tutte in Washington, and will perform it again in New York in January, 2014, along with a parallel opera by Philidor called Les Femmes vengées.)  There had been one performance of Lalla Roukh in Washington a few days earlier and the excellent cast recorded it for Naxos, but other than that, there had been no performance of this once wildly popular opera for at least 113 years.  There is no complete recording, and only one or two arias exist on recordings by early twentieth century artists.  No one alive now had ever heard it before the Opera Lafayette performances as far as I know.
If the title sounds vaguely familiar, it is because it is the name of a work by the Irish poet and writer Thomas Moore, a work once so popular that there was actually a middle-aged woman at the opera performance whose name was Lalla Roukh.  She said it had been a tradition in her family to name a female child after the Moore heroine for many, many years.  In the Moore tale, Lalla Roukh is a Moghul (Moslem) Indian princess who has been betrothed to the King of Burkhara, whom she has never seen.  On the long journey from Delhi to Samarkand in Bukhara (in today's Uzbekistan) the Princess encounters a minstrel who keeps serenading her with narrative songs.  Lalla Roukh of course falls in love with the penniless minstrel, who of course turns out to be the King in disguise–because he wanted to test his betrothed and make her love him for himself and not for his position.  In Moore's work, the story of Lalla Roukh is a frame tale in prose; the four narrative poems that the minstrel sings to her are separate stories which make up most of the work.  David's librettists, Michel Carré and Hippolyte Lucas, took the frame tale as the basis for their story and discarded the rest.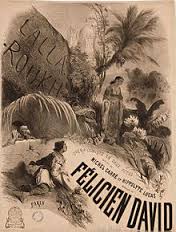 Félicien David is an interesting composer (1810-76).  Early in his life he was an ardent participant in the Saint-Simonian movement, a group of utopian socialists who believed in world peace fostered by greater communication and trade, and who preached the coming of a female messiah.  Naturally, they believed in rights for women that were far ahead of their time.  They also believed that music held a central place in promoting harmony, understanding and peace, and musicians were much honored by them.  One of their projects was to promote building a canal at the isthmus of Suez because they felt that the increased trade would produce mutual understanding.  Again, they were decades ahead of their time.  David wrote hymns for the group and choral pieces, until the Saint-Simonian movement was eventually banned by the French government which did not like their socialist tendencies.
David traveled with other adherents of the cause to Turkey and Egypt on a long trip and was much influenced by what he heard there.  Because of his trip and his interest in the region David became one of the first 'orientalist' composers and led the movement of music and opera in particular that used 'oriental' subjects.  "Oriental" in those days meant everything from North Africa across what we call the Middle East through India to China and Japan.  From the time of Lalla Roukh (1862) to at least Puccini's Madama Butterfly (1904/Japan) and Turandot (1926/China) opera composers exploited the "orient" and satisfied a burgeoning western interest in exotic lands.  Some of the more famous works that used these locales and offered vaguely "oriental" sounding music were Les pêcheurs des perles (Bizet, 1863/Sri Lanka), Lakmé (Delibes, 1883/India), La reine de Saba (Gounod, 1862/ancient Ethiopia and Yemen) and even Aida (1871/Egypt).
David first became well known to the general public with his programmatic symphonic ode Le désert (1844), a sort of secular oratorio with spoken narration which depicted several aspects of a camel caravan moving across the Egyptian desert, including a sand storm, a stop at an oasis and the muezzin's call to prayer in the morning (Das gibt es bei Capriccio als CD-Einspielung vom Konzert in Berlin/G. H.).  It is almost the only piece of David's music that I had ever heard, long ago in Berlin  1969, and I have been fascinated by him ever since, but unable to hear almost anything by him!  In Le désert David used what he called "airs arabes," native melodies he transcribed while in Egypt.  In his career David used many exotic locales, and not only in the "orient": there was Brazil for his opera La perle du Brésil and the Caribbean for an oratorio about Columbus.  He also attempted a big grand opera called Herculaneum which has  received its first modern performance in a concert version at Versailles on March 8, 2014 and will come out at the end of August 2014.  And there was much chamber music, some of which has been recorded.
Lalla Roukh balances the love plot with a comic set of characters, the ambassador assigned to bring the princess to Samarkand, Baskir (a bass) and the Princess' lady-in-waiting Mirza.  The music is luscious and tuneful and cleverly orchestrated.  The "oriental" atmosphere is achieved with the use of certain instruments and harmonies and does not use authentic Indian or Persian melodies.  It is hard to understand why some of the arias and duets have not survived in the repertories of modern singers and why this opera faded so quickly and completely from the scene after 1900 when it had been heard hundreds of times in a dozen different languages and countries in the last 40 years of the nineteenth century.  The great satirist and cartoonist Daumier drew a cartoon showing the bourgeois flocking to the opera.  Daumier probably felt that David had sold out his socialist principals to appeal to the moneyed bourgeois, but flock they did, and for a long time. No doubt Lalla Roukh was very influential as practically the first of the "oriental" operas.  You can hear bits and pieces of it in Berlioz' Les Troyens (Berlioz was full of praise for the work), in both Les pêcheurs des perles and Carmen, and in other works.  If David's work has survived at all, it is through the works of other, better known composers.
Opera Lafayette's production did the work proud.  Edward Said, in his book Orientalism, took western artists to task (including Verdi) for offering a false picture of a world they did not understand nor really wished to understand (the world of the 'Other'), but Opera Lafayette took pains to bring in representatives of and artists from India to complement the western artists.  The Ambassador of India in the United States headed the list of individuals that the company thanked, and Her Excellency was there at the performance we saw.  More important, they brought a wonderful American/Indian dance troupe called Kalanidhi Dance to perform dances in the Kuchipudi style of southern India.  The group danced a separate little ballet to Indian music before the opera started, and performed the several ballet episodes within the opera itself.  These beautifully clad young women added a touch of the authentic East to the western opera comique, and their choreographer, Anuradha Nehru, created lovely dances which respected the French music of David, and the French text.  The opera worked as the Saint-Simonist David may have wanted it to: as a window on that Other that promotes understanding and cooperation between cultures.  After all, this was a Persian-style tale with an Indian heroine by an Irish poet, set to music by a French composer using a French text, with multi-national singers, an American dance troupe composed of women of Indian heritage, an Indian costume designer who used Uzbek textiles and colors, offered by an American company performing in French to an international audience in a polyglot city.  It was an undertaking worthy of the world we live in.
One of the best things about the production was that everyone spoke excellent French.  The copious dialogue was cut, but enough was kept to reveal the idiomatic French.  The music offers each principal an aria in each act.  Both of Lalla Roukh's are astonishingly varied and good–"Sous le feuillage sombre" and "O nuit d'amour." Noureddin, the minstrel-king, sings a romance in typical couplet form in Act I ("Ma maitresse a quitté la tente") to entertain the Princess, and in Act II he sings a barcarolle (O, ma maitresse") off stage, an utterly charming piece which our production enlivened with a solo dance.  There are duets in both acts, and one of them, a comic duet between Baskir and Noureddin in which the former laughs about how he will dupe the King not knowing that he is confessing to the King in disguise, might remind us of the smuggler's quintet in Carmen (1875), but would have reminded Carmen (1875), but would have reminded Carmen's early listeners of Lalla Roukh.  The love duet in Act II ends with a section that reminds Ralph Locke, a musicologist who has written about David, of the final slow cabaletta in Lucia di Lammermoor.  At any rate, Donizetti can be heard from time to time too.
Marianne Fiset was a powerful heroine, especially in her beautiful aria "O nuit d'amour" near the beginning of Act II.  Emiliano Gonzalez Toro, a Chilean who was born and grew up in Geneva, was a mellifluous Noureddin, the King in disguise, while the excellent Nathalie Paulin was a funny and agile Mirza.  Perhaps best of all was Bernard Deletré in the comic role of Baskir.  Mr. Deletré also directed the proceedings and determined the cuts to the spoken text. There were also two comic servants to Baskir named Bakbara and Kaboul (David Newman and Andrew Adelsberger).  These two gentlemen played a very funny drunk scene, most typical of French opera comique if not of Moslem culture. There was minimal scenery (a couple of tents) and the chorus was dressed in nineteenth century black, and sang from stage boxes for the most part, but gorgeous costumes, using the bright colors of India and Uzbekistan, by Indian fashion designer Poonam Bhagat made up for any lack of sets.  Opera Lafayette founder Ryan Brown conducted idiomatically.  This rara avis  really flew!
Opera-Lafayette-Gründer und Dirigent Ryan Brown schreibt: In deciding how to present a modern premiere of Félicien David's Lalla Roukh several considerations immediately came to the fore. How to combine the exotic, sentimental, comic, and spectacular elements of this 19th century French opéra comique? What place would historical performance practice have in our approach to an opera from the 19th century, and what role would contemporary cultural knowledge play in the production? The image we first chose to represent the program, de la Boulaye's L'Orientale, suggests that the 19th century had a colorful but generalized romantic view of the East.  Thomas Moore's poem, on which our story is based, is more precise, at least in its setting—the road from Delhi to Samarkand in the late Mughal period of India's history.  David's musical response to the story is extraordinarily evocative, but his travels were to the Near East and his musical devices suggesting the East derived from this experience, without research into more specifically Indian musical traditions.
In combining these multiple historical and cultural approaches, it seemed appropriate to incorporate another visual image into our description of this project, one which was graciously made available to us by the Metropolitan Museum of Art.  A Bejeweled Maiden with a Parakeet (ca 1670-1700, India) is thought to be a representation of a daughter of one of the last Mughal emperors in India.
At the end of Act I of Lalla Roukh, David creates a brilliant effect by overlaying Mirza's melody, sung offstage, with different and new music for the inebriated guards in front of Lalla Roukh's tent. Somewhat similarly, we hope that the cultural points of view we have combined in our premiere will also work in harmony with each other, and that our production will give new life to an opera which had an extraordinarily broad appeal in the late 19th century.
Zum Inhalt: Synopsis / Act I Lalla Roukh, daughter of the Moghul emperor Aurangzeb, has been promised in marriage to the King of Samarkand (in Bukhara, today Uzbekistan). The latter has sent Baskir to Delhi to accompany and assure the safety of the young princess, her lady-in-waiting Mirza, and her retinue on their journey to Samarkand. On the way, a mysterious minstrel, eluding all attempts by Baskir to chase him away, woos the princess with his songs. Thanks to the complicity of Mirza, who distracts Baskir from his watch, he is able to declare his love to Lalla Roukh.
Act II/ Having arrived at the summer palace of the King of Samarkand, Lalla Roukh, who already had misgivings about her wedding engagement, resolves to break it, return to Delhi, and marry the minstrel. Slaves bring presents and jewels from the king, which she refuses. Instead, she asks Baskir to inform the king of her decision to break her engagement. Baskir is afraid that such a message will cost him his life, but Lalla Roukh tells him that if he refuses, she will tell the king herself. Baskir chances on the minstrel and arrests him. Baskir then blackmails the minstrel into renouncing the princess in exchange for his life. The minstrel feigns acceptance of Baskir's terms in order to see Lalla Roukh one last time. They renew their love pledges, and Lalla Roukh prepares to renounce her engagement to the king before his court. Realizing that he has been duped, Baskir orders the guards to arrest the minstrel and threatens Lalla Roukh with the minstrel's execution, should she carry out her decision. Thereupon, the king makes his grand entrance with all his courtiers. He is none other than the minstrel, now in royal regalia, who had wanted to discover if Lalla Roukh would love him for his own merit rather than for his wealth.
(Dank auch an Charles W. Rohlfs, Marketing and Development Associate von Opera Lafayette, der Fotos und Material über die Aufführung bereitstellte!)