Bei opera-club.net hats wieder zugeschlagen: Sechs Ausnahmekünstler der ferneren und näheren Vergangenheit werden in der Serie Gemma hier mit seltenen Liederabend-Mitschnitten dokumentiert, darunter die legendären der Schwarzkopf aus Amsterdam oder Janet Bakers ebenso berühmte Auftritte in Aldeburgh und Amsterdam. Hans Hotter widmet sich Schubert, Fischer-Dieskau ausschließlich der Schönen Magelone und Brahms. Im Folgenden also die Kommentare von opera-club.net und die links. Viel Spaß. G. H.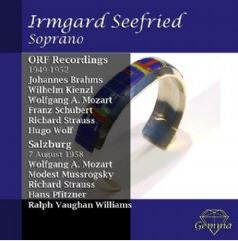 Irmgard Seefried was one of the outstanding singers to emerge immediately after the Second World War; she was noted for her Mozart and Richard Strauss roles. But she also sang in other composers' operas; the title role in Puccini's Madama Butterfly, Marie in Alban Berg's Wozzeck, Eva in Meistersinger, Blanche in Poulenc's Dialogues des Carmélites, and the title role in Janáček's Káťa Kabanová. She was also a noted lieder singer and a number of her Salzburg Festival recitals were recorded. She left many recordings of oratorio and sacred music by Bach, Mozart, Haydn (including at least four different renditions of the Archangel Gabriel in Die Schöpfung), Brahms, Fauré, Beethoven, Dvořák, and Stravinsky. Although she was a high soprano, she performed, and recorded, both the trousers roles of the Composer and Octavian in Richard Strauss's Ariadne auf Naxos and Der Rosenkavalier, respectively. These roles are usually associated with weightier voices and today are usually sung by mezzo-sopranos. Her recordings of Lieder of Wolfgang Amadeus Mozart, Franz Schubert, Johannes Brahms and Modest Mussorgsky are unique. Her famous Salzburg recital of Goethe-Lieder was overall praised.  Seefrieds voice is unique and known for its clear, completely natural sound. Elisabeth Schwarzkopf once said that everyone envied her voice, because everything everybody was working so hard for came to her so naturally. Seefried was the wife of the famous Austrian violinist and concertmaster Wolfgang Schneiderhan.  Seefried made several concert tours of Europe, the United States and the Far East in the 1950's. In 1953, she and her husband did a world concert tour together. From the start of her career, Seefried was praised for the clarity of her voice and her appealing stage presence. Reviewing her Metropolitan Opera debut, Olin Downes wrote in The New York Times, "The shining light of this performance was Seefried, whose beautiful voice and brilliancy and authority of style won her instant recognition."  During several seasons in the 1950's, she appeared as a soloist with the New York Philharmonic-Symphony orchestra under the direction of Bruno Walter. Reviewing her 1956 performance of "Et Incarnatus Est" from the Mozart Mass in C minor, Howard Taubman said in The Times: "The top of her soprano may not have the brilliance of some other singers, but she is an artist. She sang with warmth and tenderness and with a richness of understanding." (ORF Recitals 1949 – 1952; Salzburg Recital 1958: Lieder Mozart, Schubert Wolf u. a.; GEMM 1035)
Next to Dietrich Fischer-Dieskau, Elisabeth Schwarzkopf is the singer with the most studio-recordings. Many of her recordings are being considered by connoisseurs as one of the most beautiful interpretations of opera roles or Lieder ever – maybe equaled, but never surpassed. She was known for her extraordinary beautiful voice, which she used with great virtuosity and a never ending aim for perfection. She was an artist pur sang, with a high pitched voice recognized by its expression and performance. She even took it to a level where she was accused of mannerism and overacting. She was also blamed for a lack of spontaneity, compared to her colleagues like Irmgard Seefried, Elisabeth Grümmer or Sena Jurinac. On recordings it was audible, but live she knew how to win one over and her concerts were regarded as highlights (Vol. 2, Amsterdam Concerts 1957/1962/1964 Lieder Mozart, Schubert, Wolf, Strauss u. a.; GEM-1034)
Although his international fame was almost entirely in the German repertoire, in Germany and Austria Hans Hotter was also known for performing Verdi in the vernacular and was, for example a popular Falstaff and a formidable Grand Inquisitor in Don Carlos, a role he also performed in Italian in several theatres, including the Metropolitan Opera in New York. He performed, and recorded, several non-German opera roles in German translation, including Count Almaviva (Mozart), Boris Godunov (Mussorgsky) and Don Basilio (Rossini). Hotter was also known as a lieder singer. He left several recordings of Schubert lieder, including Winterreise, Schwanengesang, and other songs. His fame with Schubert's Winterreise cycle equalled his Wotan and, on one of his many Japanese tours, he sang Winterreise eight times in three weeks. His special gift was to express the meaning and feeling of the words without ever sacrificing the melody. Hotter's lifelong love of "pure" music – as distinct from opera – found its expression in lieder singing and, from the 1950s onwards, he gave increasing time to this, touring in many parts of the world. On request two concerts with Hans Hotter accompanied by Leo Schwartz were included during the performances of Wagner's Ring in 1962 in the Colón. Many thought of Hotter as one of the greatest baritones in history. Particular Dichterliebe is very poignant, very heartfelt and shows him at the peak of his powers. Leo Schwartz, not known to many, is an ideal partner for this work. We had to remove about 30 minutes of applause in order to put the whole Buenos Aires Concert of Hans Hotter on one CD. The other concerts are a welcome addition, as there are hardly any live recitals of Hans Hotter available (Recitals Buenos Aires 1962, BBC Recital 1962/63, Adelaide 1974, London 1976: Lieder Schubert, Brahms, Schumann GEM- 1036)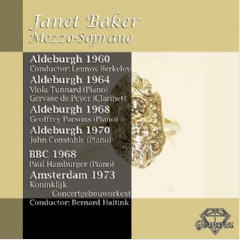 Janet Baker was an English mezzo-soprano best known as an opera, concert, and lieder singer. In her song repertoire she was particularly closely associated with Schubert, Schumann, Elgar, Britten, Duparc and Fauré. During her career, which spanned the 1950s to the 1980s, she was considered an outstanding singing actress and widely admired for her dramatic intensity, perhaps best represented in her famous portrayal as Dido, the tragic heroine of Berlioz's magnum opus, Les Troyens. As a concert performer, Dame Janet was noted for her interpretations of the music of Gustav Mahler and Edward Elgar. David Gutman, writing in Gramophone, described her performance of Mahler's Kindertotenlieder as "intimate, almost self-communing." She made an equally strong impact on audiences in the concert hall, both in oratorio roles and solo recitals. Among her most notable achievements are her recordings of the Angel in Elgar's The Dream of Gerontius, made with Sir John Barbirolli in December 1964 and Sir Simon Rattle over twenty years later; her 1965 performances of Elgar's Sea Pictures and Mahler's Rückert Lieder, also recorded with Barbirolli; and, also from 1965, the first commercial recording of Ralph Vaughan Williams's Christmas oratorio Hodie under Sir David Willcocks. In 1976 she premiered the solo cantata Phaedra, written for her by Britten; and Dominick Argento's Pulitzer Prize-winning song cycle From the Diary of Virginia Woolf, also written with her voice in mind. She has also been highly praised for her insightful performances of Brahms's Alto Rhapsody, Wagner's Wesendonck Lieder as well Frauenliebe- und Leben. The recording of this Schumann-cycle in Aldburgh 1968 is known as one of her best performances of these Lieder (Recitals Aldeburgh 1960/1964/1968/1970, BBC 1968, Amsterdam 1973; GEM-1037).
Dietrich Fischer-Dieskau mainly gained fame as performer of Lieder of romantic composers. His performance of the Lieder cycles of Franz Schubert and Robert Schumann are unique. He's now regarded one of the greatest singers of classic Lieder and opera roles of the last century. Few musicians have that many recordings in their name. The lyric expressivity that made Fischer-Dieskau so famous influenced almost all classical singers after him. Every low baritone is automatically to be compared to him. His Brahms-recitals in Amsterdam are considered legendary. The German was a versatile artist, as he was also active as conductor, painter, writer and performance artist. Not until his surprising farewell as a singer at the end of 1992, did Fischer-Dieskau really start conducting (Vol. 2, Recitals Amsterdam 1963/1964, Lieder Brahms, GEM-1038).
Gérard Souzay, officially Gérard Marcel Tisserand was a French singer (lyric baritone). He was seen as one of the greatest performers of the French Lied since Charles Panzéra (1896-1976) and Pierre Bernac (1899-1979). He was also an authority in the field of the German-romantic Lied-Art. Souzay came from a musical family; his mother, two brothers and fifteen year older sister, soprano Geneviève Touraine, were singers as well. He studied singing with Pierre Bernac and Claire Croiza in Paris. In 1945 he made his début as concert singer and two years later he was committed to the Opéra Comique and the Grand Opéra in Paris. In the beginning of his career he mainly performed roles like Golaud in Pelléas et Mélisande of Claude Debussy, Count Figaro inMozart´s Don Giovanni and as Wolfram in Tannhäuser Richard Wagner. In and outside of France he was as famous as Dietrich Fischer-Dieskau in Germany. Next to French music, with a preference for Debussy's, he also did interpretations of works of German composers. A live performance was a breathtaking event, as you can hear for yourself (Recitals Schwetzingen 1960, Manchester 1965, Cleveland 1966, Decca Recordings, Mélodies/Lieder, GEM-1039).